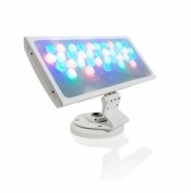 ColorBlast 12 is a stylish, compact wall-washing light that generates rich, uniform colors and color changing effects. ColorBlast 12 fixtures are rated for indoor and outdoor use and are available in white, black or natural aluminum powder coat finish. A versatile base can be mounted to a junction box on a wall or ceiling or the optional canopy provides a finished look as a stand on a floor. ColorBlast 12 comes with a soft-tempered lens for a soft-edge beam of light or a clear lens for extended light projection. A swivel bracket allows for flexible fixture positioning, that may be locked into place. Its housing is aptly equipped to affix spread lenses, louvers and other attachements. ColorBlast 12 may be easily controlled via DMX512, a PC, or a range of Color Kinetics controllers.
Color Kinetics
Color Kinetics Incorporated (Nasdaq: CLRK) is a pioneer in the design, marketing and licensing of intelligent solid-state lighting systems. The company's award-winning product lines combine the increasing advantages of LEDs as a light source with its patented digital control technology for use in wide-ranging applications. Its flagship technologies leverage a patented layer of digital intelligence, called Chromacore®, to generate and control millions of colors and dynamic lighting effects. Color Kinetics operates in two principal lines of business: Lighting Systems, including solid-state lighting devices, digital controllers and software for use in high-performance lighting projects; and OEM & Licensing, including a standard line of intelligent solid-state lighting modules that can be readily incorporated by other manufacturers. Color Kinetics also licenses its technology both within and beyond the lighting industry. Color Kinetics' intelligent solid-state lighting systems illuminate the exteriors of signature office buildings, add visual impact to the interiors of retail stores and residences, provide entertaining lighting effects that help attract patrons to hospitality venues, and supply versatile, high-performance lighting for television and stage sets. The company's systems have been installed in thousands of user sites around the world, including Brookstone,Carnival Cruise Lines, Cathay Financial Center, Hairspray on Broadway, Hard Rock Hotel & Casino, Harrah's, Marriott, the Metropolitan Museum of Art, New York State Bridge Authority, NBA Entertainment, Nortel Networks, Northwest Airlines, Rainforest Café, Royal Caribbean International, Wheel of Fortune and Wynn Las Vegas. With the introduction of its IntelliWhite� products, Color Kinetics is now addressing specialty white light applications while working toward developing systems that meet the growing opportunity to replace conventional lighting with solid-state lighting for general illumination. Color Kinetics' investment in research and development is reflected by its intellectual property portfolio, which comprises 42 issued patents and more than 140 patent applications pending. Color Kinetics' intellectual property applies to many aspects of solid-state lighting technology, ranging from methods for digital control of lighting, to production techniques, to the application of solid-state lighting innovations in many specific markets.
Used LED Wall Washers
Find used LED pars, wall washers and more from top brands such as Color Kinetics, Chauvet, Martin Professional and Elation. All products come with warranties and are tested before shipping to you. Solaris sells and buys secondhand and used LED strips, pars and more for event production, houses of worship, concert and theaters. If you do not find what you are looking for give us a call and we will quickly find it for you.