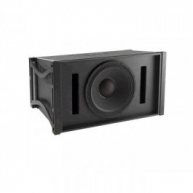 The XLC 127 is a 3-way design that utilizes a 12 vented LF, 2 x 6.5 MF transducers on a 120-degree horizontal waveguide, and 2 x HF transducers that combine through a new vertical plan wave generator to a 120-degree waveguide. The system can be used in tri-amp mode, or bi-amp two-way using the sophisticated internal passive MF to HF network. The Xlci version is designed for permanent installation applications with specially designed mounting hardware for easy cost effective hanging.
Electro-Voice
Electro-Voice Prominent maker of microphones; also loudspeaker systems, amplifiers.
Used Subwoofer
Find used speaker subs and subwoofers from popular brands as JBL, Turbosound, EAW and more. All used speakers we carry are warrantied and in most cases inspected by factory certified technicians. Solaris sells and buys secondhand and used speaker subs for use in churches, clubs, theaters and other large events and shows. Call us if you don't find it and we will find it for you.