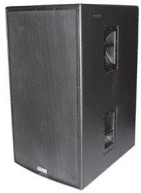 A dedicated Subwoofer system with two 15 in transducers in a vented trapezoidal enclosure. Each driver is in its own vented subenclosure. Each driver has its own connections on the input panel. This allows the drivers to be connected in parallel to one amplifier channel or connected individually to seperate amplifier channels.

Applications
The SB600z compact high output Virtual Array Subwoofer is engineered to array with KF650z or KF695z VA loudspeakers. Tuned enclosure venting extends LF response and minimizes driver strain. Universal suspension hardware includes both a flytrack and a 3/8"-16 mounting point to support portable or permanent applications. Six Year Warranty.
Eastern Acoustic Works
Eastern Acoustic Works (EAW) is the global leader in high-performance, professional loudspeaker system design and manufacture. Based in an historic mill complex in Whitinsville, Massachusetts, USA, EAW gives audio professionals a comprehensive tool kit that helps them deliver customized sound reinforcement solutions for venues and events around the world.
Used Subwoofer
Find used speaker subs and subwoofers from popular brands as JBL, Turbosound, EAW and more. All used speakers we carry are warrantied and in most cases inspected by factory certified technicians. Solaris sells and buys secondhand and used speaker subs for use in churches, clubs, theaters and other large events and shows. Call us if you don't find it and we will find it for you.