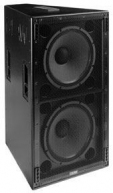 A dedicated Subwoofer system with 2x 18-in transducers in a vented trapezoidal enclosure. An SB750F enclosure shares the same footprint as a KF700 Series module and is almost exactly one-and-a-half times its height, meaning that a two-high column of flown SB750's is exactly the same height as a three-high column of flown KF700 Series modules. At less than 200 lbs. per enclosure, SB750F's offers users the flexibility of adding them to flown arrays without adding inordinate weight.

Applications
While many users will choose to deploy the SB750F in groundstacked clusters, the system is engineered to work with KF700 Series array modules in flown arrays. Some array configurations allow the creation of dipolar Subwoofer arrays to improve pattern control in the lower octaves.

In addition to sharing dimensions as discussed above, the SB750F features identical four-position flytracks as well as the stacking pad that joins stacked enclosures during both groundstacked applications and transport. Each SB750F comes with 4x Cable links of the proper length for arraying with KF700 Series modules. It also uses the same caster pallet (CP700) as the KF700 Series modules.
Eastern Acoustic Works
Eastern Acoustic Works (EAW) is the global leader in high-performance, professional loudspeaker system design and manufacture. Based in an historic mill complex in Whitinsville, Massachusetts, USA, EAW gives audio professionals a comprehensive tool kit that helps them deliver customized sound reinforcement solutions for venues and events around the world.
Used Subwoofer
Find used speaker subs and subwoofers from popular brands as JBL, Turbosound, EAW and more. All used speakers we carry are warrantied and in most cases inspected by factory certified technicians. Solaris sells and buys secondhand and used speaker subs for use in churches, clubs, theaters and other large events and shows. Call us if you don't find it and we will find it for you.