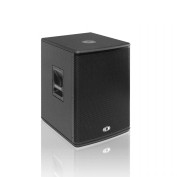 The Sub 1.15 is the ideal bass extension for the Corus C 12.2 or C 15.2 full-range cabinets.

In the low frequency range between 40 Hz and 260 Hz a Electro-Voice EVS-15S woofer in direct-radiator bass-reflex design produce an max. SPL of 125 dB.

Thanks to their low-pass filter, the Sub 1.15 can be operated simply in parallel mode to existing full-range cabinets. Also recommended, naturally, is the combination with the DSP 260 or DSP 600 and power amplifiers from the SL or LX series for the creation of active two-way systems.
Dynacord
Brands like DYNACORD, ELECTRO-VOICE, RTS and others are under the roof of Bosch Communications, Inc. EVI Audio GmbH as the European headquarters with the electronics manufacturing is located in Straubing, Germany. The loudspeaker boxes are produced in a second facility in Hohenwarth, approximately 45 km away. In Europe approximately 650 employees are occupied, approximately 500 of which are in Germany. Regional PI-distribution offices are in all large areas of business concentration across Germany. EVI Audio GmbH is also responsible for the activities of the subsidiaries in France and UK and for the territory of Africa and Middle East. The place of work is Straubing, a mid-size city in close proximity to the Bavarian Forest with his many idyllic little villages. This area offers all amenities and schools close by and all possibilities of living, leisure and sports.
Used Subwoofer
Find used speaker subs and subwoofers from popular brands as JBL, Turbosound, EAW and more. All used speakers we carry are warrantied and in most cases inspected by factory certified technicians. Solaris sells and buys secondhand and used speaker subs for use in churches, clubs, theaters and other large events and shows. Call us if you don't find it and we will find it for you.