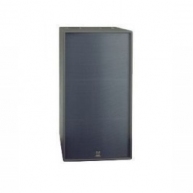 The WSX is a folded horn Subwoofer which has been specifically designed to reproduce very deep bass frequencies with maximum efficiency, speed and impact. It is intended to be used with Martin Wavefront Series loudspeakers such as the W8, W8C and also the W8 line array enclosures in the most demanding touring situations where extreme levels of bass are required. It is also ideal for reproducing the concentrated bass energy of contemporary dance music in club environments.
Martin Audio
Martin Audio was founded in 1971 to manufacture and supply world class touring systems for the supergroups of the day that included Pink Floyd and Supertramp. We are very proud of this heritage. Designing leading edge live performance systems has remained core to our success. Today, Martin Audio enjoys an international reputation for supplying superb performance ready systems across the spectrum of sound reinforcement applications. Our portfolio of products, now highly developed, meet customer requirements for every market sector. Renowned for integrity in design, technical excellence and the longevity of its products, Martin Audio takes system creation into a further dimension. Our aim is for every member of the audience to enjoy an exceptional sonic experience. Martin Audio systems are designed with in-built sound qualities which artists can rely on to faithfully reproduce their performance to every corner of the auditorium.
Used Subwoofer
Find used speaker subs and subwoofers from popular brands as JBL, Turbosound, EAW and more. All used speakers we carry are warrantied and in most cases inspected by factory certified technicians. Solaris sells and buys secondhand and used speaker subs for use in churches, clubs, theaters and other large events and shows. Call us if you don't find it and we will find it for you.
WSX - These WSX were Completely Restored in 2010.
W8LM Line Array - WSX Line array package from Martin Audio. Kept in a clean warehouse.
WSX - Martin Audio folded horn subwoofer.