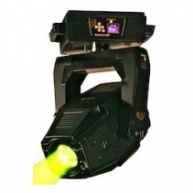 The new SolaSpot LED...The highest performance LED spot in its class. The industry is about to get a favorite new lighting tool!

Lightweight, bright, fast full featured with a bright white LED source outputting more then a conventional 575 fixture. No more lamp changes, lower noise and less heat all equate to a fixture with longer life, higher return on investment and increased reliability.

Including High End Systems patented lens defogger, SolaSpot LED is yet another innovative step towards the future. SolaSpot LED is the most advanced and full featured LED moving yoke on the market today!
High End Systems
From Ani di Franco to ZZ Top concerts. From Super Bowl half time to popular music award shows. From trade shows and talk shows to Olympic ceremonies or church sanctuaries. At High End Systems Inc., we innovate and create the lighting products and control systems that illuminate some of the world's biggest artists on the largest stages, as well as film and television sets, cruise ships, theme parks, restaurants and retail spaces. Now entering our fourth decade, we're one of the world's largest entertainment lighting manufacturers, a pioneer in new digital lighting technology and producer of the industry-preferred lighting controller technology. We attribute our success to staying in touch with the needs of the entertainment lighting community. Product research and development at our Austin, TX headquarters is an ongoing collaboration between in-house engineers and lighting designers in the field. This collaboration is largely to thank for our status as a major industry innovator and intellectual property holder. We're not only keeping pace with industry developments - we're guiding them. We're constantly pushing the creative and technological envelope to meet customer needs and stay ahead of the curve. As members of the entertainment community, we know reliability is paramount. We maintain rigorous manufacturing standards, while providing industry-leading customer support services.
Used LED Lighting
LED lighting is a specialized kind of stage lighting which is highly valued by technicians due to its high light output and low power consumption. Used as an alternative to traditional stage lighting such as halogen lamps, LED stage lighting is a more than capable alternative for just about any kind of application, although it is primarily used for lighting cycloramas, and for side, back and top lighting. In addition to these uses, LED lighting can be used to '??blind the audience'?Ě, a nice special effect which involves briefly exposing the audience to a direct light beam from the LED stage lighting at crucial moments of the concert or show. LED wash lights are also great for applying a technique known as '??wall washing'?Ě, thanks to the high intensity of their light beam. LED wash lights can provide the full spectrum of light colors, despite usually only being fitted with green, blue and red LEDs. The operator simply needs to adjust the intensity of the various colored beams of light, manipulating them to achieve the desired color spectrum. LED lighting is provided by three pieces of equipment. The most common are LED Pars, which imitate traditional stage lights and have a number of LEDs mounted onto them. Striplights, which are basically a long length of LED wash lights, are also very common, while the versatility of moving LED lights is also becoming an increasingly preferred option for many stage lighting technicians. Besides its higher light output and lower power consumption, LED lighting has a number of other advantages. One is that they have an exceptionally high heat tolerance, which means they can be used almost anywhere without worrying about them becoming damaged due to overheating. Another advantage of LED lighting is that it has a much longer shelf life than traditional lighting.