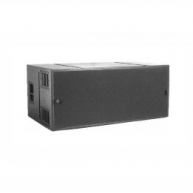 The L-Acoustics SB218 is
the companion Subwoofer for
V-DOSC or ARCS and
features two, front-loaded
18-inch transducers loaded in
an optimally-sized and tuned
vented enclosure. With power
handling capacity of 1100 Wrms
(4400 Wpeak) and response to
25 Hz, the SB218 is ideal for
applications requiring maximum
low frequency extension and
impact.
The SB218 provides unparalleled
low end punch and bass
articulation combined with high
power handling and efficiency.
Due to its compact design and
critically damped tuning, multiple
SB218 enclosures couple
effectively while providing the
bass definition and musicality
that only a front loaded
Subwoofer can provide.
L-Acoustics
Founded by Dr Christian Heil in 1984, L-ACOUSTICS has revolutionized the Pro Audio industry with its legendary Line Source Systems. For the past two decades, L-ACOUSTICS has developed a reputation for creating innovative solutions to the most demanding sound reinforcement requirements. Commitment to the scientific method and product innovation have been our philosophies from the outset. But innovation doesn't stop with the product itself: with continued value enhancements, we offer you exceptional product durability. L-ACOUSTICS is more than a sound system manufacturer, it is a full service partner dedicated to customer support. The Best Sound Comes From One Source
Used Subwoofer
Find used speaker subs and subwoofers from popular brands as JBL, Turbosound, EAW and more. All used speakers we carry are warrantied and in most cases inspected by factory certified technicians. Solaris sells and buys secondhand and used speaker subs for use in churches, clubs, theaters and other large events and shows. Call us if you don't find it and we will find it for you.
SB218 - Dolly & Covers Included
SB218 - Package including (8) SB218 subs, (8) SB218 castor boards and (6) SB218 covers. Used on various rent...
SB218 - SB218 in good condition.
SB218 - Complete L'Acoustics SB218 sub-woofer system.
SB218 - Units vary from 2007 to 2009 and include cover and dolly.
SB218 - SB218 pulled from a church installation.
SB218 Package - All have been cleaned and tested by a certified production company.
SB218 - SB218 in great condition.
SB218 - Call for more information on this listing.
SB218 - SB218 in great condition; previously used on rentals.
SB218 - Used on corporate events. Normal wear.
SB218 - Call for more information.
SB218 - Good shape. Nicely used. Available with original L'Acoustics dollies.
SB218 - Cabinets finished with factory paint and new front foam.
SB218 - These SB218's from L-acoustics are in good condition and will be tested before they ship.
SB218 - Woofers replaced when burned. Used on various rentals.
Kudo SB218 Package - This is a Complete L'Acoustics Multi / SB218 Line Array System Package - 12 x 8 - Used in Very Good ...
SB218 - Comes with wheel boards and a 10 day warranty. Various rentals. Always cleaned and tested.
SB218 - Corporate used SB218 with cover and dolly in good condition.
SB218 - L-Acoustics SB218subwoofers. Will be protected before shipping.
SB218 - SB218 with dollies & covers, purchased new from L'Acoustics factory.
SB218 - Used on various rentals. From 2005.
SB218 - These L-Acoustics subs come are in great condition and come with dollies. Minimum order of 4 units.