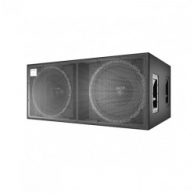 The SA288 was designed as multi-purpose, dedicated low frequency/bass workhorse system for medium to large scale sound reinforcement duty. The SA288s low profile lends itself well to dance clubs and live performance venues. This system also integrates easily with other McCauley AC(tm) and SA(tm) products, offering consistent coverage and a uniform appearance.

The SA288 is a dedicated LF / Subwoofer system in a rectangular, horizontal, computer optimized enclosure. Loudspeaker complement consists of a twin 18 LF woofers separately loaded into individual, vented sub-enclosures. The entire enclosure is constructed of durable 12-ply void-free birch laminate, dadoed for strength and durability. Handles are balance-optimized to faciliate transportation. Perforated steel is employed for frontal protection of the
loudspeaker complement.
McCauley Sound
Nestled in the heart of the Pacific Northwest, surrounded by great evergreen forests and under the shadow of majestic Mt. Rainier, McCauley Sound, Inc. is an American company founded in the humble frontier spirit of discovery and driven forward by a traditional pride in the merits of craftsmanship. As an innovator and leader in the design and manufacture of high-performance professional loudspeaker systems and raw-frame loudspeaker components, McCauley Sound is the only professional audio company still based in the United States who both engineers new technologies and manufactures products entirely in-house and under our direct control.
Used Subwoofer
Find used speaker subs and subwoofers from popular brands as JBL, Turbosound, EAW and more. All used speakers we carry are warrantied and in most cases inspected by factory certified technicians. Solaris sells and buys secondhand and used speaker subs for use in churches, clubs, theaters and other large events and shows. Call us if you don't find it and we will find it for you.