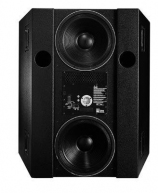 The Meyer Sound PSW-6 is the first low-frequency system to exhibit a true cardioid directional pattern throughout its operating range. The PSW-6's unprecedented directional control spans more than two full octaves, with a front-to-back SPL ratio of more than 15 dB (typically more than 20 dB) from 30 Hz to 125 Hz. Horizontal and vertical coverage patterns are symmetrical, ensuring consistent SPL and frequency response throughout the coverage area.

The tight response pattern of the PSW-6 steers acoustical output away from the enclosure rear, eliminating much of the low-frequency reverberation associated with large-scale full-range loudspeaker arrays and allowing placement in proximity to walls without the problems of subtractive boundary conditions.

The PSW-6 incorporates a built-in four-channel class AB/H amplifier with complementary MOSFET output stages that delivers total peak output of 2480 watts (620 watts/channel). TruPower limiting provides enhanced performance and assures driver protection, and the Intelligent AC System affords automatic voltage selection, EMI filtering, soft current turn-on and surge suppression.

The PSW-6 shares the same ??footprint as the Meyer Sound MSL-6, and features an internal steel framework for carrying load stresses. The optional MRF-6 Rigging Frame allows integration into QuickFly rigging systems.

The PSW-6 is compatible with Meyer Sound's RMS remote monitoring system, which displays critical system parameters on a Windows-based computer.
Meyer Sound
Established by John and Helen Meyer in 1979, Meyer Sound has been at the forefront of innovation in audio engineering for over two decades. From the outset, Meyer Sound looked beyond loudspeaker cabinet design to create totally integrated, systems-comprehensive solutions that encompass transducer design, signal processing, power amplification and even electroacoustic measurement systems. As a result, Meyer Sound's engineering teams have earned an enviable reputation for developing unique, innovative solutions to some of the most difficult problems confronting audio professionals. In fact, it is fundamental to John Meyer's philosophy that no component of a system should be compromised in order to compensate for variables "upstream" or "downstream." Instead, the entire system should be conceived, designed, tested, confirmed and manufactured as a whole to provide the optimum blend of audio fidelity, utility and long-term reliability.
Used Subwoofer
Find used speaker subs and subwoofers from popular brands as JBL, Turbosound, EAW and more. All used speakers we carry are warrantied and in most cases inspected by factory certified technicians. Solaris sells and buys secondhand and used speaker subs for use in churches, clubs, theaters and other large events and shows. Call us if you don't find it and we will find it for you.
PSW-6 - Package of (2) PSW-6 in good condition.