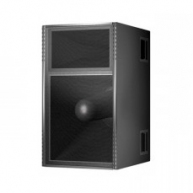 The Meyer Sound MSL-4 is a high-Q, arrayable loudspeaker designed for a wide variety of medium- to Long-Throw applications. The MSL-4's tightly defined coverage pattern allows seamless integration into array clusters, which may be tight-packed for long throw or splayed for broader coverage.

The MSL-4's built-in power amplifier and control electronics are contained in an easily accessible, field-replaceable module. The amplifier, a class AB/H design with complementary MOSFET output stages, produces peak output of 1240 watts (620 watts per channel). The integrated control electronics includes TruPower limiting for driver protection, as well as active phase correction circuits to maintain exceptionally coherent phase response. Superior common-mode rejection from laser-trimmed differential inputs allows very long signal runs. An Intelligent AC Power Supply affords automatic voltage selection, EMI filtering, soft current turn-on and surge suppression to ensure system stability and long-term reliability.

All components are housed in a rugged, multi-ply hardwood cabinet with a black textured finish. The MSL-4 comes standard with six aircraft pan fittings (ring and stud), with QuickFly rigging optional.

The MSL-4 is compatible with Meyer Sound's RMS remote monitoring system.
Meyer Sound
Established by John and Helen Meyer in 1979, Meyer Sound has been at the forefront of innovation in audio engineering for over two decades. From the outset, Meyer Sound looked beyond loudspeaker cabinet design to create totally integrated, systems-comprehensive solutions that encompass transducer design, signal processing, power amplification and even electroacoustic measurement systems. As a result, Meyer Sound's engineering teams have earned an enviable reputation for developing unique, innovative solutions to some of the most difficult problems confronting audio professionals. In fact, it is fundamental to John Meyer's philosophy that no component of a system should be compromised in order to compensate for variables "upstream" or "downstream." Instead, the entire system should be conceived, designed, tested, confirmed and manufactured as a whole to provide the optimum blend of audio fidelity, utility and long-term reliability.
Used Cabinet Speakers
Find used speakers and used speaker cabinets from popular brands as JBL, Turbosound, EAW and more. All used speakers we carry are warrantied and in most cases inspected by factory certified technicians. Solaris sells and buys secondhand and used speaker cabinets for use in churches, clubs, theaters and other large events and shows. Call us if you don't find it and we will find it for you.
MSL-4 - MSL-4 in great condition, previously used on various rentals.
MSL-4 - Ex rental MSL4's. No longer required and seller wants something new.
MSL-4 - Kept in a clean environment. Will be protected before shipping.
MSL-4 - MSL-4 in good condition.
MSL-4 - Package of (6) MSL-4 horn loaded long-throw loudspeakers in good condition.
MSL-4 - MSL-4 Package of (4) in good condition. Previously used on rentals.
MSL-4 - All have L-Trak, good foam, and their current condition is a 7-8 out of 10. Comes with a 30 day warr...
MSL-4 - All looked over by a certified technical.
MSL-4 - MSL-4 in great condition, previously used on rentals.
MSL-4 - Package of (6) MSL-4 with L Track in great condition.
MSL-4 - Package of (12) MSL4 and (6) DS-4P(s).
MSL-4 - Package of (4) MSL-4, (2) DS4, (2) Subgrave and (1) LD2 in good condition.
MSL-4 - Package of (12) MSL-4 in great condition, previously used on rentals.
MSL-4 Package - Package of (4) MSL-4, and (4) 650P in good condition.