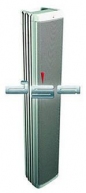 EAW's new Digitally Steerable Array, or DSA? Series, represents a radical step forward for small to mid-sized permanent installation applications. In essence, the DSA Series simplifies the KF900/PPST technology that permits digital steering and aiming of an array's output and adapts it to applications where column loudspeakers would typically be specified.

Like a KF900 array, each driver in a DSA Series loudspeaker enjoys its own individual amplification and digital signal processing (DSP). Using EAW's free DSA Pilot software program, users can vary the vertical coverage pattern from 15deg to 120deg as well as aim the coverage 30deg.

Unlike the KF900 system, however, all this power is housed in a compact, column speaker-type enclosure that requires no external amplification or processing. Users only need to connect AC power, audio signal, and network communications Cables. DSA Pilot recognizes each loudspeaker connected to the network and allows users to control all of them from a single interface.

This complex, powerful technology has been years in the making, so a review of the engineering goals and design concepts will help the reader better understand the genesis of these amazing loudspeaker systems.

Eastern Acoustic Works
Eastern Acoustic Works (EAW) is the global leader in high-performance, professional loudspeaker system design and manufacture. Based in an historic mill complex in Whitinsville, Massachusetts, USA, EAW gives audio professionals a comprehensive tool kit that helps them deliver customized sound reinforcement solutions for venues and events around the world.
Used Cabinet Speakers
Find used speakers and used speaker cabinets from popular brands as JBL, Turbosound, EAW and more. All used speakers we carry are warrantied and in most cases inspected by factory certified technicians. Solaris sells and buys secondhand and used speaker cabinets for use in churches, clubs, theaters and other large events and shows. Call us if you don't find it and we will find it for you.