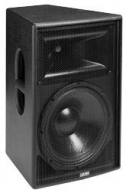 A 2-way passive full range system in a compact vented trapezoidal enclosure. It incorporates a 12 in woofer and a 1 in exit/2 in voice coil compression driver mounted to a 90deg x 45deg constant directivity horn. It comes with handles, rubber foot-pads, a pole mount cup, and three 3/8-16 mounting points. An internal passive crossover network uses complex asymmetrical filters to divide the signal and performs critical equalization functions.

Applications
The FR129z provides high output full range response in a versatile, compact system. It offers entry-level access to a high quality, truly professional loudspeaker system for musicians and DJ's servicing small to medium venues. The FR129z is designed primarily for portable applications, but mounting points are provided for installation applications. The FR129z is optimized for use with the FR250z dual 15 in Subwoofer system, which also serves as a pole mount base. In such a configuration, an optional 5 ft mounting pole positions the FR129z's HF horn above the heads of audience members for optimum coverage.
Eastern Acoustic Works
Eastern Acoustic Works (EAW) is the global leader in high-performance, professional loudspeaker system design and manufacture. Based in an historic mill complex in Whitinsville, Massachusetts, USA, EAW gives audio professionals a comprehensive tool kit that helps them deliver customized sound reinforcement solutions for venues and events around the world.
Used Cabinet Speakers
Find used speakers and used speaker cabinets from popular brands as JBL, Turbosound, EAW and more. All used speakers we carry are warrantied and in most cases inspected by factory certified technicians. Solaris sells and buys secondhand and used speaker cabinets for use in churches, clubs, theaters and other large events and shows. Call us if you don't find it and we will find it for you.
FR129z - FR129z in great condition.