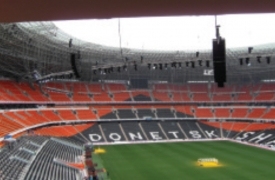 Shakhtar Donetsk Celebrates with L-ACOUSTICS Enclosures
September 15th, 2011
Legendary Ukrainian soccer team Shakhtar Donetsk marked their recent 75th anniversary celebrations with a huge night of entertainments at its Donbass Arena, which drew more than 50,000 fans as well as the country's incumbent president,Viktor Yanukovich.

Star of the show was the US R&B diva, Rihanna, who performed a number of hits as the finale of an evening of wild celebrations, which included a multimedia presentation of Shakthar's football history and mass choreography shows from more than 700 performers.

Providing audio for the event proved to be a challenge for the production team, who chose to use an L-Acoustics sound system to meet their demands. Engineers constructed an impressive 360 degree rig flown from the roof of the stadium to house eight clusters of dV-DOSC and V-DOSC, as well as four KUDO enclosures. The rigging was integrated with a number of pitch-side KUDO stacks, while in the four corners of the pitch they used eight SB28 subs, making a total of no less than 272 enclosures for the event.