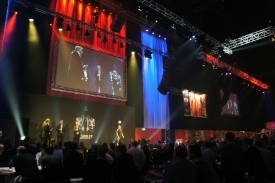 Wembley Arena Celebrates Champions League KUDO
July 10th, 2011
A special one-day event to mark the occasion of the 2011 UEFA Champions League Final staged at London's Wembley Stadium saw the deployment of an L-Acoustics KUDO system at the smaller Wembley Arena Venue.

Hosting the football-themed event was Club Wembley, the hospitality sector of Wembley Group, on the behalf of UEFA.

The event saw WembleyArenatransformed into a huge VIP suite for the occasion, which saw a number of presenters, live acts and VIP speakers entertaining guests of UEFA.

Technicians deployed four hangs of KUDO cabinets, which were flown to the left, outer left, right and outer right of the main stage, together with eight KIVA ultra compact line source cabinets deployed in pairs to provide frontfill, an additional four dV-DOSC hangs for outfill, and eight SB28 subs stacked on the ground. 21 LA8 amplified controllers were used to power the system.