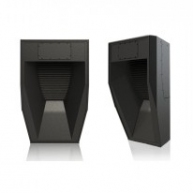 The GH60 Genesis Horn incorporates 3 pending patents in one box: the Synergy Horn, the Paraline and the Shaded Amplitude Lens. The GH60 houses a total of 18 drivers utilizing 21 horizontal 20 downward vanes that provide even front-to-back coverage (better than line array performance) from a single point source. Due to the Shaded Amplitude Lens, the GH60 has 16 dB of gain on the furthest listeners axis and all 45 of the vertical coverage is useable.
Danley
Danley Sound Labs is the exclusive home of Tom Danley, one of the most innovative loudspeaker designers in the industry. Tom's innovations have been utilized in projects ranging from ground zero bombing simulation and active noise cancellation of jet engines to critical listening mastering studios, high end home theatre and houses of worship around the world. Danley Sound Labs is proud of the fact that we make extraordinary products from ordinary components.
Used Subwoofer
Find used speaker subs and subwoofers from popular brands as JBL, Turbosound, EAW and more. All used speakers we carry are warrantied and in most cases inspected by factory certified technicians. Solaris sells and buys secondhand and used speaker subs for use in churches, clubs, theaters and other large events and shows. Call us if you don't find it and we will find it for you.
GH60 - (4) GH60, (2) Fly bars, (2) custom carts.