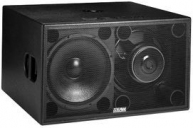 A dedicated Subwoofer system with (2) 15 in transducers in a compact vented rectangular enclosure. Physically reversing one woofer relative to the other helps to cancel the mechanical distortion inherent when large transducers are driven at high levels. It includes recessed handles and rubber feet. A pole receptacle allows the FR250z enclosure to double as a base for use with any pole-mountable full range system. Mounting points on the rear of the enclosure facilitate the installation of an optional caster kit. The Neutrik NL4 Speakon jacks use pin 2 for input to the sub and loop- through the pin 1 input.

Applications
The FR250z provides high output sub-bass response in a compact enclosure. It is intended primarily for portable applications, but it may readily be used in installations where budget and space is restricted. For increased stability, the pole mount receptacle extends to the bottom of the enclosure to leverage the system's entire weight. An appropriately configured MX250 processor will extend LF response while integrating the Subwoofer with a full range system.
Eastern Acoustic Works
Eastern Acoustic Works (EAW) is the global leader in high-performance, professional loudspeaker system design and manufacture. Based in an historic mill complex in Whitinsville, Massachusetts, USA, EAW gives audio professionals a comprehensive tool kit that helps them deliver customized sound reinforcement solutions for venues and events around the world.
Used Subwoofer
Find used speaker subs and subwoofers from popular brands as JBL, Turbosound, EAW and more. All used speakers we carry are warrantied and in most cases inspected by factory certified technicians. Solaris sells and buys secondhand and used speaker subs for use in churches, clubs, theaters and other large events and shows. Call us if you don't find it and we will find it for you.