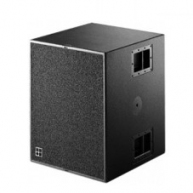 C7 Subwoofer
The C7-SUB is a bass-reflex Subwoofer specifically designed for use with the C7-TOP providing dynamic performance with high impulse program, a tight full sound and high efficiency. Its extra large bass-reflex tunnel guarantees high sound pressure while minimizing power compression and air turbulence noise. The C7-SUB cabinet is constructed from marine plywood and has an impact resistant paint finish, steel handles and an M20 threaded flange on the top to accept a loudspeaker stand. The front of the Subwoofer cabinet is fitted with catches at the top and bottom for securing an optional wooden lid, and mounted on the rear panel are ratchet strap guide plates, two hinge plates and four heavy duty wheels.
db audiotechnik
d&b audiotechnik has been developing, manufacturing and distributing loudspeaker systems since 1981. The company operates internationally in the field of electroacoustics to produce high quality products for reinforcement of speech and music. Through the amalgamation of technological developments, system integration principals, quality of construction and standards of service, d&b pursues a systems approach that includes all aspects of design, development, manufacture and support. d&b's loudspeakers are used globally in rental and installation markets for events, multimedia, musicals, concert halls, theatres, opera houses, broadcast and everything from the smallest conference room to the largest stadium.
Used Subwoofer
Find used speaker subs and subwoofers from popular brands as JBL, Turbosound, EAW and more. All used speakers we carry are warrantied and in most cases inspected by factory certified technicians. Solaris sells and buys secondhand and used speaker subs for use in churches, clubs, theaters and other large events and shows. Call us if you don't find it and we will find it for you.