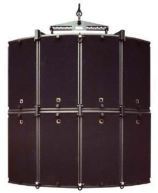 L-ACOUSTICS ARCS provides the same performance benefits as V-DOSC and dV-DOSCTM in a highly compact format suitable for both fixed installation and touring. By satisfying Wavefront Sculpture Technology (WST) criteria,
ARCS provides remarkable clarity and perfect coherence along with powerful, smooth, predictable coverage. ARCS is designed for tightly-wrapped arraying in single or double row configurations
or for horizontal arraying of up
to 4 enclosures. The internationally patented DOSC waveguide designed exclusively for ARCS radiates a wavefront
that has a radius of curvature matching the enclosure's 22.5deg trapezoidal angle. When arrayed, the radiated constant curvature
wavefront is continuous with an arc's shape with horizontal directivity equal to N x 22.5deg (where N is the number of ARCS). Vertically, the exit of the DOSC
waveguide is loaded by a cylindrical waveguide that provides an asymmetrical coverage angle of +40deg by -20deg. Modular horizontal coverage, combined with 60deg
vertical directivity, makes ARCS highly suited to the overall coverage and throw distance requirements for typical medium-sized venues. As a full range, two-way system ARCS can be used for front-of-house (FOH) sound reinforcement in corporate, television or theatrical applications. Due to its optimum speech reproduction and small
physical footprint, ARCS is also highly effective as a flown center cluster for theatrical installations. For large-scale fixed installation, distributed arrays can be employed for stadium and Arena sound reinforcement. In these applications, ARCS can be installed either single or arrayed, vertically or horizontally, and the
precise, modular 22.5deg horizontal
directivity combined with the generous 60deg vertical coverage allows for cost-effective coverage.
L-Acoustics
Founded by Dr Christian Heil in 1984, L-ACOUSTICS has revolutionized the Pro Audio industry with its legendary Line Source Systems. For the past two decades, L-ACOUSTICS has developed a reputation for creating innovative solutions to the most demanding sound reinforcement requirements. Commitment to the scientific method and product innovation have been our philosophies from the outset. But innovation doesn't stop with the product itself: with continued value enhancements, we offer you exceptional product durability. L-ACOUSTICS is more than a sound system manufacturer, it is a full service partner dedicated to customer support. The Best Sound Comes From One Source
Used Line Array Speakers
Find used line array speakers and line array elements from such popular brands as L-Acoustics, d&b audiotechnik, Meyer Sound and Nexo. All used line array speakers are warrantied and in most cases inspected by factory certified technicians. Solaris sells and buys secondhand and used line arrays for large concerts, tours, stadiums and auditoriums. Call us if you don't find it and we will find it for you.
ARCS - Used on a church installation. Kept in a clean enviroment.
ARCS - Package of (4) ARCS in great condition.
ARCS - Priced per unit. 8 day warranty. All speakers have been tested.
ARCS - ARCS in good condition.
ARCS - These Arcs are in Great Working Order. Come With Casters and Covers.
ARCS Package - Complete ARCS package in great condition.
ARCS - ARCS in great condition.
ARCS - Mostly used on a few corporate events.
ARCS - No R&R touring history. Dry-hire equipment. From an installation.
ARCS - Used on a few light tours and corporate events.
ARCS - ARCS Cabinet with cover, and dolly. In good working condition and show ready.