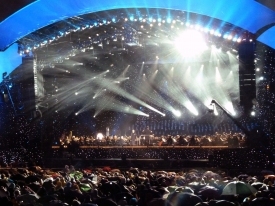 K1 Systems Spell Success for Andrea Bocelli Concert
September 28th, 2011
It might've been damp and drizzly but that did little to dissuade more than 60,000 pop and Opera lovers from heading down totheGreat Lawn at New York's Central Park earlier this month to catch a glimpse of Andrea Bocelli's free concert, which also featured performances by the Westminster Symphonic Choir, the New York Philharmonic and numerous other star names.

The concert sound reinforcement system used in the event was comprised of a dozen L-Acoustics K1 line array systems, as well as three KARA used for downfill. Also used were three ARCS to cover the audience at the front corners of the stage, these being hung on the sides of the K1 arrays.

The production team for the event used 16 SB28 subs underneath the front riser, with an extra four SB28s set up in a cardiod configuration in order to complement the outfill provdied by the ARCS. Powering the entire set up were 22 LA8 amplified controllers, which were kept in LA-RAK touring racks.