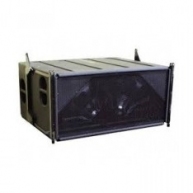 The 7218SWX is a high-performance; high-output Subwoofer system designed to compliment XYON line array systems in a variety of permanently-installed and live sound reinforcement applications. The 7218SWX utilizes advanced components and technology to attain the highest performance levels.

7218SWX units are configured as alternating upright and inverted units, paired to create a low-frequency horn termed QUAD-ONE. By focusing all four LF drivers at the same quadrant of a sphere, greater directivity and increased sensitivity is realized. Whereas typical line array systems require very large arrays to achieve this level of directivity and output, XYON does so with as few as two Elements.

The standard 7218SWX is intended for ground-stack only applications. It includes heavy-duty casters, and single-box padded transport covers are available.

The 7218SWX-F version is intended for flown applications and includes the integrated XYON Z-MAX modular rigging system. 7218SWX-F enclosures may be transported in twos or fours on DL-7218 Dolly Boards, and padded transports covers are available.

Recommended amp and cabling configurations are available, as well as DSP processor settings for many commonly used system controllers.

The 7218SWX is the perfect companion subwoofers for XYON line array systems, such as the 7108XY, the 7208XF, the 7222XY, and the 7225XF.
Soundbridge
(Now bought by Roku)
Used Subwoofer
Find used speaker subs and subwoofers from popular brands as JBL, Turbosound, EAW and more. All used speakers we carry are warrantied and in most cases inspected by factory certified technicians. Solaris sells and buys secondhand and used speaker subs for use in churches, clubs, theaters and other large events and shows. Call us if you don't find it and we will find it for you.