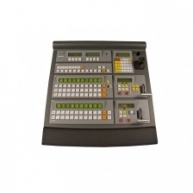 Barco's FSN-150 is a smart, compact controller that allows you to engineer the visualization of your event the way you want to. It offers numerous custom controls, mappable buttons and quick preset effect activation, including cuts, wipes, transitions, DVE moves, downstream keys and many types of effects you can create yourself.

Barco's FSN-150 also includes mini LCD displays are perfectly readable even in daylight settings, and give you the right information on sources and programmed custom effects.

To make sure your show with the FSN-150 Controller will not be a one-shot effort, it allows you to store complete or partial switcher setups in over 1,000 memory registers. With just a press of the button, you'll be ready to go for an Encore in no time.
Barco
Barco, a global technology company, designs and develops visualization solutions for a variety of selected professional markets: medical imaging, media & entertainment, infrastructure & utilities, traffic & transportation, defense & security, education & training and corporate AV. In these markets Barco offers user-friendly imaging products that optimize productivity and business efficiency. Its innovative hard- and software solutions integrate all aspects of the imaging chain, from image acquisition and processing to image display and management. Barco has its own facilities for Sales & Marketing, Customer Support, R&D and Manufacturing in Europe, America and Asia-Pacific. The company (NYSE, Euronext Brussels: BAR) is active in more than 90 countries and employs 3,500 staff worldwide. In 2008 Barco posted sales of 742 million euro.
Used Video Processors and Mixers
A video processor, sometimes called a vision mixer, is used for professional compositing of video sources or the selection of video sources, in a similar fashion to the way audio streams are mixed and matched with a mixing console. This video processor technology is normally used in TV studios, video editing bays and production trucks or studios, in the production of TV shows, theatrical shows and concerts. Video processor is actually a term more commonly used in the United States â?? in Europe and other English speaking countries, the terms video or vision mixer are preferred. The operator of a video processor will generally be called a technical director in all countries however. The technical director will use the video processor to generate multiple transitions of video sources, such as pattern swipes or dissolves. The video processor can also be used to create color signals (or mattes) and carry out keying operations. As such, most video processors are geared towards professional use, and feature either a Serial Digital Interface (in the case of digital models) or component video connections (in the case of analog models). A digital video processor is normally used for linear video editing in live TV, in conjunction with video servers and video tape recordings. For other uses, such as video presentations, VJing and small productions involving the use of multiple cameras, an analog video processor is still fairly common.