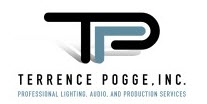 Terrence Pogge Inc. Testimonial
November 11th, 2011
Terrence Pogge ofTerrence Pogge Inc. successfully purchased some LED strips for a client of his. He recounts his experience with Solaris here.

"The LED bars (I eventually bought six of them) are exactly what I needed. I have a client who needed some thin LED strips to line some on-stage lighting booms. I have actually sent them out on some other shows as well, as the price point makes them available to some of my smaller clients who couldn't necessarily afford something in the range of , for example, the Color Kinetics lines.

Steve Smith has been very helpful. Steve (and anyone else that I have dealt with at Solaris) has been great about returning requests for quotes and such in a very timely manner. In the past, I have requested a number of quotes from the SoundBroker company, and they have never returned a single quote request. Sometimes the price of shipping an item is the decision point, so it is great to have a company like yours that can get back to me so quickly with shipping options.

I am a very small company, and your business is allowing me to grow faster, and I appreciate that. I will definitely look to Solaris when I need to make future purchases."

Terrence Pogge