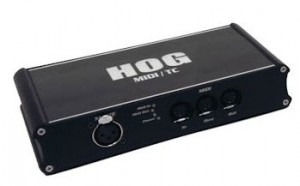 New Wholehog Widget & Accessory Changes
November 11th, 2011
High End Systems introduced a new Wholehog MIDI/LTC Widget along with cosmetic changes to their other Wholehog accessories.

This new MIDI/LTC widget will supersede the original LTC widget, but also includes new MIDI compatibility and functionality. The unit is packaged in a new slick black box and this style has been applied to all other existing Wholehog accessories.

The new widget is compatible with any USB Windows PC, Wholehog 3 console or Hog console. It gives a single linear timecode input in conjunction with the MIDI in/out.