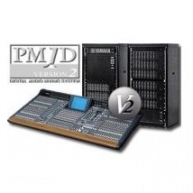 A great engineer uses them to Listen to every sound and dial in the perfect mix. A great manufacturer uses them to Listen to their customers and develop perfect products.

After years of listening to our customers needs, Yamaha took what we had heard and developed the PM1D. It established digital as a viable format for live sound consoles and though many followed our path later, PM1D remains the best selling large format digital SR console on earth.

That kind of success can be deafening, but we never stopped asking questions and listening to your ideas for improvements.

We constantly worked to upgrade our software. We introduced new mic preamps to expand on sonic performance. We introduced the Artist1D to provide an optical fiber cabling option.

And now we introduce another major upgrade, PM1DV2 software. This new software represents a deep resource investment by Yamaha and an equally deep commitment to our PM1D customers that we will continue to improve PM1D and enhance their investment in our console.

A PARTIAL LIST OF NEW FEATURES IN THE PM1DV2

Automatic Gain
Automatic Gain Adjustment for Systems with Shared Inputs

When the gain is adjusted on the head amp control on the master PM1D, attenuator of the slave PM1D is automatically adjusted and maintains the level.

Remote Control
Remote Control of PM1D from 02R96 and DM-Series Digital Mixers through the PM1D Manager

The CS1D and DSP1D (EX) support connecting to a laptop computer via RS232C.

Note: RS-422 is recommended for long distance connections. An RS-422 adapter is required.

Extraordinary Programmability, Repeatability
The entire PM1D system offers extraordinary power and flexibility in terms of programmability and repeatability. In addition to a sophisticated analog-style control surface, all parameters can be accessed and edited via a familiar computer interface, with graphic readout for easy, efficient operation. In fact, the entire setup can be programmed off-line on a standard desktop or laptop computer and then loaded into the PM1D when needed. Instantaneous total recall of as many as 1,000 scenes makes it a snap to keep up with even the most complex programs, and undo capability makes it easy to avoid potential mistakes.

All-digital Sound and Processing
Yamaha is no newcomer to digital sound. Yamaha digital mixing consoles have revolutionized the Recording and production industries, and there is no question that the sound quality and processing power they provide are first class. The same type of technology has been applied in the PM1D with many advancements and improvements that take overall audio performance to new levels. Top-quality 28-bit AD and 27-bit DA conversion deliver extraordinary sonic resolution for totally clean, natural sound. The same goes for signal processing whether it's EQ, compression, or effects. The PM1D offers vast processing power and unmatched performance in all areas so you won't need any external processing gear. Of course, if there's a device that you simply have to use to achieve your sound, the PM1D lets you patch it in just about anywhere in the system. In fact, all signal routing and patching is controlled via a comprehensive centralized display that makes system setup a snap.

Compact for Easy Transport and Positioning
The entire PM1D system the console itself and one or two equipment racks (depending on your I/O requirements) is considerably smaller, lighter, and easier to handle than comparable analog systems. And because of the small size of the console, you have more freedom in selecting and setting up your mixing location. The PM1D is also a natural choice for mobile applications.

Fast, Easy Setup and Minimum Cabling with Ethernet-based System Connections
In stark contrast to the snakes and bundles of Cables required for analog sound reinforcement, all PM1D console-to-stage audio and control signals are carried via one 68-pin cable per 32 channels, and three Ethernet Cables. So once the console and rack(s) are in position, it should not take more than a few minutes to have the whole rigs connected and ready to run.

Performance You Can Depend On
Reliability is another important feature of the PM1D. Since all console settings are duplicated within the rack-mount-processing engine, operation will continue uninterrupted even if the control surface itself is accidentally shut down.

Add On Effects
Add-On Effects Built-In

Add-On Effects include a studio-grade compressor, a vintage EQ, and an effector that offers tape compression derived from open deck Recording, as well as the Reverberator REV-X, which uses Yamahas exclusive new algorithms. Youll be able to master the use of these latest effects while using the PM1D Version 2.

Pre HPF
Pre HPF Direct Out MIX1
Pre-HPF Direct Out

Pre-HPF has been added at the output point for the Direct Out signal. The input signal can be sent directly to a recorder. Plus, the Direct Out signal level can be adjusted from -8 to +10dB.

Insert Delete Channel

Insert Delete Channel
Insert/Delete Channel

This newly added function allows you to insert or delete the input and output channels. Channels in the inserted or deleted range can be picked up and shifted to the end. This also works with any of the Mix, Matrix and Stereo channels.

Yamaha
Since 1887, when it began producing reed organs, the Yamaha Corporation in Japan (then Nippon Gakki Co., Ltd.) has grown to become the world's largest manufacturer of a full line of musical instruments, and a leading producer of audio/visual products, semiconductors and other computer related products, sporting goods, home appliances and furniture, specialty metals, machine tools, and industrial robots. Yamaha now owns 59 subsidiaries and affiliates in overseas markets in addition to numerous related companies in Japan. Additionally, Yamaha owns and runs its unique resort facilities throughout Japan so as to enhance our customers' leisure and cultural activities. Also, Yamaha provides a place for studying music, sets opportunities for presenting one's own compositions, and creates an environment for the enjoyment of a variety of musical endeavors. Since Yamaha Music Foundation was established in 1966, it has generated a wide range of music activities throughout global society, including Yamaha music schools, and the Junior Original Concert. Strong commitment to promote and support music education and popularization is one of the most significant elements to distinguish Yamaha from its competitors. Yamaha has endeavored to produce products and services that satisfy the diverse needs and desires of people worldwide. Its products and services are recognized the world over for superior quality in acoustics, design, technology, craftsmanship, and customer oriented services. These products and services under the brand name of Yamaha are highly regarded by a large number of professionals, institutions, business people within the related industries, and consumers. Our corporate philosophies are embedded in our customer oriented management and operations; providing excellence in our products and services; continuous efforts to expand our existing market and create new markets; enhancement of research and development on a long range perspective; commitment to care for end users through providing even better service after sale; pursuit of further globalization of Yamaha's business; fostering positive growth through diversification. Yamaha's very basic corporate objective is reflected in everything that it does, which is to contribute to the enrichment of the quality of lives for people around the world.
Used Digital Mixing Consoles
Audio mixers, or sound consoles, are electronic sound mixing boards used to combine two or more audio signals, before directing them to the output channels connected to the device. Sound consoles do a great deal more than just combining different audio signals they allow users to optimize the sound output in a number of ways adjusting various sound levels, enhancing sound with special effects and equalization etc, allowing for unmatched control over the end product.
PM1D - PM1DV2 in good condition, previously used on an installation.
PM1DV2 - From installation. In great condition.
PM1DV2 - Never toured. Includes all you can ever think for a console.
PM1DV2 - PM1DV2 control surfaces package in perfect condition.
PM1DV2 - We will configure this system to your specs
PM1DV2 - Complete Yamaha PM1D V2 System
PM1DV2 - Used only a few times. Version 2
PM1DV2 - PM1DV2 in good condition.