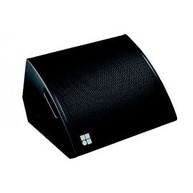 MAX monitor
MAX is a 2-way full range loudspeaker with remarkable vocal presence, clarity and high feedback stability. Due to its coaxial design it is an extremely compact low height cabinet with two set up angles. MAX can be used either as a stage monitor, as a downfill in flown applications or together with the C7-SUB as a flexible PA system. The MAX cabinet is constructed from marine plywood, which incorporates the handles, has an impact resistant paint finish and M10 threaded inserts. A socket to accept loudspeaker Stands, ratchet strap guide plates and an optional version with MAN CF4 stud plates complete the multiple application options for MAX.


Amplifiers
MAX can be driven passivley either by d&b's D6 or D12 dual channnel power amplifiers configured for MAX or set to the LINEAR configuration, or actively by the D12 switched to 2-Way Active mode. More detailed information on specific loudspeaker setups with d&b amplifiers is available either in the relevant loudspeaker or amplifier manuals. MAX cabinets may also be driven by any high quality power amplifier provided their output power does not exceed 500 Watts into 8 ohms and an additional subsonic filter (25 Hz and 12 dB/octave) is used.
db audiotechnik
d&b audiotechnik has been developing, manufacturing and distributing loudspeaker systems since 1981. The company operates internationally in the field of electroacoustics to produce high quality products for reinforcement of speech and music. Through the amalgamation of technological developments, system integration principals, quality of construction and standards of service, d&b pursues a systems approach that includes all aspects of design, development, manufacture and support. d&b's loudspeakers are used globally in rental and installation markets for events, multimedia, musicals, concert halls, theatres, opera houses, broadcast and everything from the smallest conference room to the largest stadium.
Used Cabinet Speakers
Find used speakers and used speaker cabinets from popular brands as JBL, Turbosound, EAW and more. All used speakers we carry are warrantied and in most cases inspected by factory certified technicians. Solaris sells and buys secondhand and used speaker cabinets for use in churches, clubs, theaters and other large events and shows. Call us if you don't find it and we will find it for you.
Max Package - In excellent condition. From various rentals.
Max - Sold as Pairs - From 2007
Max - In like new condition.
Max - From installation. Good working order.