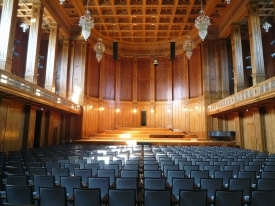 Historic Concert Hall Receives L-ACOUSTICS KIVA Boost
September 12th, 2011
The historic Max Littman Saal concert hall in the German city of Bad Kissingen has just received a tremendous sound-booster: In the form of aKIVA WST modular line source system that has just been newly installed.

The 98-year old concert hall is able toaccommodateup to 1,160 people and hosts all manner of events in the city, from classical music performance to rockconcerts, literature readings and public forums.

In order to meet the Venue organizer's requirements of low visual impact, engineers opted for a left/right system comprising eight L-Acoustics KIVAs, plus an extra two low frequency Kilo extensions on each side. The system is powered by LA8 amplified controllers.

Christoph zur Loye, who oversaw the installation, said that the system was the appropriate choice as it was able toprovidethe right level of sound coverage whilst remaining practically invisible, an essential requirement for any historic Venue.