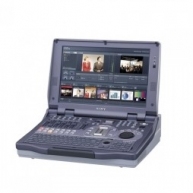 The Sony AWS-G500E Anycast Station Live Content Producer is a portable live production switcher. This all-in-one unit comprises a high-quality Video Switcher, an audio mixer, a large LCD display, and a streaming encoder and server. When combined with your choice of optional interface module, it accepts a variety of inputs from PCs, cameras, VCRs and hard disk drives. It mixes audio and offers ME capabilities. This unit will easily integrate into a studio or location live production operation.

Fully Configurable
The Anycast Station now comes as a fully configurable system without standard interface modules, allowing end users to choose analog or digital, SD and/or HD simply by purchasing the applicable modular BKAW interface cards.
Audio Mixer
6-channel input mixing utilizes 48kHz/24bit processing, real channel faders and a master fader, stereo speakers.
Access Buttons
Pressing an access button calls up the control menus of the associated input to the LCD screen. A variety of video and audio parameter settings can be accomplished.
Mixer Output Controls
Provides controls for all audio output functions including; audio monitor level, talkback on/off, audio Dimmer on/off, speaker level and headphone output.
Online
Controls and triggers of streaming video and Recording of compatible hard disk drives.
Camera Control
Through the menu, selection camera control is offered for compatible Sony Pan/Tilt/Zoom cameras. Six memories are offered to store camera position and control settings.
Device Control
Cameras and hard disk drives can be controlled using the jog shuttle wheel and buttons.
Talkback Microphone
Along with the talkback microphone an intercom connector is provided for users with an intercom system.
Source Displays
Thumbnail video of each input source can be displayed; PGM and PVW are highlighted in red and amber.
Streaming Display
Displays the parameters and current server status of the streaming video input.
Switcher Display
Program and Preview are the main video displays along with thumbnails of the inputs, effect and DSK transition durations and the guide for cameras parameters.
Speakers
Built-in stereo speakers are offered for audio monitoring.
LCD Display
The built-in LCD is a high brightness, 15.4" 1280 x 800 foldable display.
Sony
Sony Corporation of America, based in New York City, is the U.S. subsidiary of Sony Corporation, headquartered in Tokyo. Sony is a leading manufacturer of audio, video, communications, and information technology products for the consumer and professional markets. Its music, motion picture, television, computer entertainment, and online businesses make Sony one of the most comprehensive entertainment companies in the world. Sony's principal U.S. businesses include Sony Electronics Inc., Sony Pictures Entertainment, Sony Computer Entertainment America Inc., and a 50% interest in SONY BMG MUSIC ENTERTAINMENT, one of the largest recorded music companies in the world. Sony recorded consolidated annual sales of approximately $67 billion for the fiscal year ended March 31, 2005, and it employs 151,400 people worldwide. Sony's consolidated sales in the U.S. for the fiscal year ended March 31, 2005 were $18.4 billion.
Used Video Processors and Mixers
A video processor, sometimes called a vision mixer, is used for professional compositing of video sources or the selection of video sources, in a similar fashion to the way audio streams are mixed and matched with a mixing console. This video processor technology is normally used in TV studios, video editing bays and production trucks or studios, in the production of TV shows, theatrical shows and concerts. Video processor is actually a term more commonly used in the United States â?? in Europe and other English speaking countries, the terms video or vision mixer are preferred. The operator of a video processor will generally be called a technical director in all countries however. The technical director will use the video processor to generate multiple transitions of video sources, such as pattern swipes or dissolves. The video processor can also be used to create color signals (or mattes) and carry out keying operations. As such, most video processors are geared towards professional use, and feature either a Serial Digital Interface (in the case of digital models) or component video connections (in the case of analog models). A digital video processor is normally used for linear video editing in live TV, in conjunction with video servers and video tape recordings. For other uses, such as video presentations, VJing and small productions involving the use of multiple cameras, an analog video processor is still fairly common.