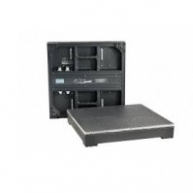 IIntroducing a completely new dimension to set design and
content creation: The xVision Video Deck LED SYSTEM
enables designers to use the stage itself as part of the
Video Display system.
Its high strenght rubberized faade allows high weight
items such as cars or set pieces to be placed on top of the
unit, while delivering exceptionnal contrast with deep black,
a feature to often overlooked on many similar products.
A clever Touring Frame with built-in levelling system allows
for quick and effortless installation in any environment.
Target installations include car shows, live TV broadcasts,
talent performances, and museums/showrooms. The
xVision Video Deck LED is packaged to be a road-ready
system but is at home on any permanent installation as
well.
Theatrixx
Theatrixx Technologies distributes and manufactures technical equipment to suit the needs of the performing arts industry. Theatrixx Technologies' product lines are carefully selected based on our rigorous criteria with regards to safety, reliability, sturdiness, quality of construction and manufacturers' solid reputation. Theatrixx Technologies designs custom equipment that offers solutions to the lighting, audio, power and cabling challenges. Our in-house designers have extensive experience and understanding of the specific needs of the event business. They create innovative devices and systems that meet the highest standards and are built to withstand the daily hazards of life on the road and demanding installations. All products meet or exceed UL and CSA standards. In addition, Theatrixx Technologies works in collaboration with its clients to develop solutions to their specific needs, producing prototypes and delivering a finished product within time sensitive schedule and on budget. Theatrixx Technologies; A key member of your Video, Lighting, Audio and Stage Design Team.
Used LED Lighting
LED lighting is a specialized kind of stage lighting which is highly valued by technicians due to its high light output and low power consumption. Used as an alternative to traditional stage lighting such as halogen lamps, LED stage lighting is a more than capable alternative for just about any kind of application, although it is primarily used for lighting cycloramas, and for side, back and top lighting. In addition to these uses, LED lighting can be used to '??blind the audience'?Ě, a nice special effect which involves briefly exposing the audience to a direct light beam from the LED stage lighting at crucial moments of the concert or show. LED wash lights are also great for applying a technique known as '??wall washing'?Ě, thanks to the high intensity of their light beam. LED wash lights can provide the full spectrum of light colors, despite usually only being fitted with green, blue and red LEDs. The operator simply needs to adjust the intensity of the various colored beams of light, manipulating them to achieve the desired color spectrum. LED lighting is provided by three pieces of equipment. The most common are LED Pars, which imitate traditional stage lights and have a number of LEDs mounted onto them. Striplights, which are basically a long length of LED wash lights, are also very common, while the versatility of moving LED lights is also becoming an increasingly preferred option for many stage lighting technicians. Besides its higher light output and lower power consumption, LED lighting has a number of other advantages. One is that they have an exceptionally high heat tolerance, which means they can be used almost anywhere without worrying about them becoming damaged due to overheating. Another advantage of LED lighting is that it has a much longer shelf life than traditional lighting.