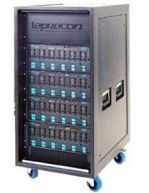 VX and MX racks provide ease of use and service that you demand in a Touring Rack. Quite operation makes them ideally suited for corporate, theater and ballroom events.

The VX Series dimmer provides front accessible control and dimming electronics. The MX dimmer provides unsurpassed reliability and state of the art technology combined to provide cost effective digital dimming. Versatile control input via USITT DMX-512 and optional analog along with self trimming, digital control electronics provide perfect dimmer output tracking from channel to channel.

-Quiet, thermostatically-controlled fans ensure 100percent duty cycle operation at all times
-Heavy-duty torroidal chokes help eliminate lamp filament noise
-Highly efficient, low let-thru magnetic circuit breakers protect against shorted loads
-Rugged back-to-back power modules provide safe and reliable operation
Leprecon
We are building a company that will survive and thrive in the long term, as we continue to develop and maintain the capacity to enable the rapid development, marketing, manufacturing and service of leading edge entertainment lighting products, in accordance with our vision. We do this by designing, building and marketing innovative, high quality, reasonably priced products.
Used Dimmer Racks
Dimmer racks are a specialist device used to control the brightness level of lighting fixtures. Also known as dimmers, these light dimming systems adjust brightness by increasing or decreasing the voltage to the light, affecting how much actual power the lamp receives. By doing this, the light outputâ??s intensity can be adjusted. Dimmer racks are often used in theatres and concert venues (where they are known as a touring dimmer rack), and specifically controls halogen, resistive incandescent and compact fluorescent lights. For dimming mercury vapor, solid state, fluorescent and other specialist types of lighting, more specialized equipment than a dimmer rack module is needed. There are several different types of dimmer racks available, starting with the smaller light switch size boxes that are used in homes, all the way up to large consoles which are used in concert venues, theater etc. Such professional dimmer racks are too large to be controlled directly like the ones at home, and so a DMX or DALI control system is used instead. When dimmer racks used in professional situations, changing the intensity or dimming the lights is known as â??fading upâ? or â??fading downâ?. Itâ??s recommended that lights are not â??fadedâ?? too quickly, as doing so can damage the life expectancy of the lamp in question, although this is less of an issue with more advanced dimmer rack module units.
VX Rack - 72 channel + 3k touring dimmer rack. Used on various rentals. Comes with a 60 day warranty.