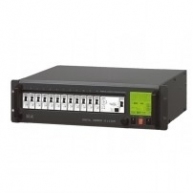 Highest availability and practical relevance of their Digital Touring Dimmer made MA Lighting Technology famous around the world. Now you can get these advantage and much more for permanent installations, too. The new MA installation Dimmer comes in compact cabinet at a footprint of only 600 x 600 mm. Easy and direct access to load terminals, mains power feed and control inputs in guaranteed by a 19 swivel frame which operates like a huge front door. The heart of the system is MA's unique Network Dimmer Processor (NDP) a central processing unit which is capable to control two fully populated Dimmer racks. It can also be run with an additional redundant backup processor which Stands for maximum reliability and security.

Each Network Dimmer Processor provides dual DMX512 inputs and direct control via different EtherNet protocols all with individual patch. A network connection allows full integration in grandMA systems. It has a built-in Power Supply option and allows the design of conventional and LAN controlled systems in a very easy way.

Innovative Dimmer modules communicate with the NDP on a CAN-bus and provide live feedback and error messages to an external PC or any control of the grandMA family. For additional safety a panic facility allows specific dimmers to be controlled even without an operational NDP.
Future prooved technology
Network Dimmer Processor
The heart that beats for 144 Dimmer circuits Each network Dimmer processor controls up to 36 Dimmer modules (equals a maximum of 144 circuits of 3,000 VA) even when located in different racks via CAN-bus and may also be placed remotely to the actual Dimmer rack. CAN-bus is also used to link a redundant backup processor unit to the NDP. Any processor module holds and edits the configuration data of the whole system and can therefore be exchanged against any other module system-wide without uploading data or manual re-configuration.
The dimMA network Dimmer processor provides two independent DMX input ports (DMX 512/1990).
As standard a parallel control with EtherNet protocols is provided (ArtNet and MA-Net). Any control signal (DMX or EtherNet) is assigned to two independent control slots, both with independent input patch and various control options (input A-HTP-B, A-over-B, A-LTP-B).
Dimmer levels as set by local control or any input signal can be stored as a "snapshot" in any of an unlimited number of backup cues, which are stored and handled like a sequence known from the grandMA console range. These cues can be remotely triggered by six dry-contact inputs (either in direct mode with GO, PAUSE, RESUME, GO- and OFF or in binary mode with direct access to 62 cues). Backup cues provide their own fade and delay times and can be



linked and activated by the loss of a DMX signal. For configuration and operational features the NDP provides a 2 line LC display, 4 menu keys and 6 status LEDs. The LC display shows necessary information about the actual connection state and allows to do any Dimmer module configuration an intuitive menu structure which is also mirrored on an optional external VGA screen. Any change of configuration or setup can also easily be done with an optional external PC keyboard. Optionally each NDP can remotely be operated by a Pocket PC with wireless EtherNet connection and an installed Telnet client.
The NDP is either controlled by up to two independent DMX 512 inputs or directly via EtherNet connected to the 10/100 base-T/TX port. Six opto-isolated analogue inputs can be used for various external control options or to activate internal backup cues.
The built-in panic facility has got two dry contact input, too. For an additional current sensor to monitor the neutral mains feed an additional analogue input is provided. The network Dimmer processor is based on a 266 MHz CPU with 64 MB SO-RAM and a 64 MByte CF-flashcard. It operates on embedded Linux and can
easily be upgraded and remotely configured by any grandMA device.
MA Lighting
The company was founded in 1983 by Michael Adenau (MA) and enjoys strong growth from the very beginning until today. More than 10,000 MA control desks are being used all over the world and MA´s digital dimming systems have become an industry standard. The success accelerated in 1985, when software specialist Ernst Ebrecht joined MA Lighting as a partner. In this period MA introduced the Lightcommander 24 and Lightcommander 48 control desks. When launched in 1992 the MA Scancommander caused a huge stir in the burgeoning world of moving light control. This product established MA Lighting as a leading innovator of lighting control for the global touring and event sector. Leading producers of intelligent lighting showed great interest in MA's new operating philosophy, which radically differed from the historical "dimmer -oriented" control systems of that time. In the spring of 1998 MA showed the world the eagerly awaited grandMA console. This hybrid lighting control console brought a new level of hardware sophistication to the lighting world. The full color touch screens, motorized faders, built in UPS (uninterruptible power supply) and hard drive were only the beginning. The summer of 2000 saw the launch of a host of new products from MA, the grandMA light, the grandMA replay unit and the grandMA offline editor. In the autumn of 2001, the grandMA range will be completed with the introduction of the grandMA ultra-light. The ultra-light has 1,024 channels but retains the main features of a grandMA at a very competitive price. Today, MA Lighting are well known for their technical know-how and have achieved an unique international reputation for its operational philosophy. MA´s award-winning products are extremely reliable and offer cutting-edge solutions for dimming and control. Organizational Structure This story of success is strongly based on the teamwork between MA and Lightpower. Lightpower, located in Paderborn, is handling the international distribution of MA products since 1987. The two companies work very closely together and, through their respective roles, have made each other stronger. Production, and research & development are located in MA´s modern headquarters in Waldbuettelbrunn. For marketing, sales and technical support Lightpower has founded a new subsidiary: MA Lighting International. All of these activities are coordinated in their Paderborn facilities.
Used Dimmer Racks
Dimmer racks are a specialist device used to control the brightness level of lighting fixtures. Also known as dimmers, these light dimming systems adjust brightness by increasing or decreasing the voltage to the light, affecting how much actual power the lamp receives. By doing this, the light outputâ??s intensity can be adjusted. Dimmer racks are often used in theatres and concert venues (where they are known as a touring dimmer rack), and specifically controls halogen, resistive incandescent and compact fluorescent lights. For dimming mercury vapor, solid state, fluorescent and other specialist types of lighting, more specialized equipment than a dimmer rack module is needed. There are several different types of dimmer racks available, starting with the smaller light switch size boxes that are used in homes, all the way up to large consoles which are used in concert venues, theater etc. Such professional dimmer racks are too large to be controlled directly like the ones at home, and so a DMX or DALI control system is used instead. When dimmer racks used in professional situations, changing the intensity or dimming the lights is known as â??fading upâ? or â??fading downâ?. Itâ??s recommended that lights are not â??fadedâ?? too quickly, as doing so can damage the life expectancy of the lamp in question, although this is less of an issue with more advanced dimmer rack module units.