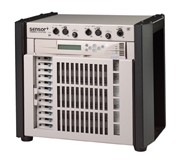 Hundreds of thousands of ETC Sensor Dimmer modules are lighting up venues everywhere. Professionals choose them because they are cost effective and deliver maximum reliability with a minimum failure rate. Known for technical elegance, Sensor's highly integrated design means fewer parts for fewer failures. And Sensor's plug-in modularity allows for more configurability, customization and easy maintenance. Sensor modules meet your system's unique needs, offering a wide variety of risetimes to customize to your noise requirements and a wide variety of amperages to match your fixture inventory. And you can choose the specialty module that best suits your purposes, including Fluorescent, Relay, Constant Circuit Breaker, Delta, and GFCI module versions. ETC is looking out for you: Advanced Features Dimmer modules contain embedded current and voltage sensors. These sensors constantly monitor Dimmer-status information, which is analyzed by the control electronics to diagnose and report Dimmer-specific load changes (individual lamp failures) or Dimmer module faults.

Standard modules include the D20, D20E, D20AF, D50AF, D100AF as well as the D20F, CC20, and R20.

Electronic Theatre Controls
Since its founding by Fred Foster in 1975, ETC (Electronic Theatre Controls, Inc.) has become a global leader in award-winning entertainment and architectural lighting equipment. ETC's fixtures, lighting control consoles, dimmers and distribution products are the backbone of lighting systems in venues worldwide - from schools and churches, to community theaters and TV studios, to opera houses and theme parks. Over the first decade of its history, ETC earned a reputation for sophisticated microprocessor-based lighting control consoles. By 1990, ETC had acquired Lighting Methods, Inc., a Rochester, New York-based manufacturer of entertainment dimming systems. ETC quickly became one of the largest fully-integrated entertainment lighting control manufacturers in North America, with offices in Middleton, WI; Orlando, FL; Rochester, NY; and Hollywood, CA. The next phase of growth began in 1995, when ETC acquired the lighting control division of London-based distributor ARRI GB. That same year, ETC opened an office in Hong Kong, extending its expansion into Asia. In 1997, ETC opened an office in Copenhagen, Denmark, to serve the Northern European market, and a year later opened an office in Rome, allowing greater access to Southern Europe. ETC acquired Transtechnik Lichtsysteme, Holzkirchen, Germany in 2002, widening ETC's market potential in Europe. Continuing its growth, ETC took an equity position in Avab France in 2003. In 2004, ETC acquired Dutch sine wave dimming manufacturer IES and its industrial weighing and measuring division Penko Engineering BV, both located in Veenendaal, the Netherlands. Beginning March 31, 2005, all formerly separate operations of ETC in Europe joined under the common corporate banner of ETC. ETC's new international headquarters, located in Middleton, WI (near the state capital Madison) serve as hub of global administration and manufacturing. Through the years, ETC has gained an industry-wide reputation for outstanding service and customer support. ETC not only maintains in-house, 24-hour Technical and Customer Service staffs, but an extensive network of factory-trained, authorized field service centers.
Used Dimmer Racks
Dimmer racks are a specialist device used to control the brightness level of lighting fixtures. Also known as dimmers, these light dimming systems adjust brightness by increasing or decreasing the voltage to the light, affecting how much actual power the lamp receives. By doing this, the light outputâ??s intensity can be adjusted. Dimmer racks are often used in theatres and concert venues (where they are known as a touring dimmer rack), and specifically controls halogen, resistive incandescent and compact fluorescent lights. For dimming mercury vapor, solid state, fluorescent and other specialist types of lighting, more specialized equipment than a dimmer rack module is needed. There are several different types of dimmer racks available, starting with the smaller light switch size boxes that are used in homes, all the way up to large consoles which are used in concert venues, theater etc. Such professional dimmer racks are too large to be controlled directly like the ones at home, and so a DMX or DALI control system is used instead. When dimmer racks used in professional situations, changing the intensity or dimming the lights is known as â??fading upâ? or â??fading downâ?. Itâ??s recommended that lights are not â??fadedâ?? too quickly, as doing so can damage the life expectancy of the lamp in question, although this is less of an issue with more advanced dimmer rack module units.