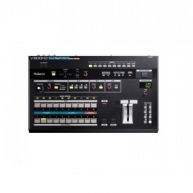 PICTURE QUALITY AT THE PINNACLE OF HIGH DEFINITION. EIGHT MULTI-FORMAT CHANNELS FROM SIXTEEN INPUTS.
The V-800HD Live Video Switcher is ideal for any live event orinstallation that requires the freedom to connect any type of sourcewhether it be digital or analog, computer or video format.
Roland
Roland Corporation U.S. is a leading manufacturer and distributor of electronic musical instruments including keyboards and synthesizers, guitar products, electronic percussion kits, digital recording equipment, amplifiers and audio processing devices. With over 25 years of musical instrument development, Roland sets the standards in music technology for the world to follow.
Used Video Switcher
Video switchers, also known as a video display controller (abbreviated to VDC) is essentially the key component of a video signal generator. This kind of vision mixer is used for generating a visual signal in computers, and in some cases an audio signal too, although this is just a secondary function. The video switcher first made its appearance in our homes in the first types of home computers, such as the old Commodores and Spectrums, and is now an integral part of video signal generator logic. A video mixer cannot work alone however, as it needs support from various other parts of the computer to work. For example, pixel data is stored in the computerÔ??s RAM, while character fonts are held in the ROM. Therefore, the video switcher chip will usually be totally integrated into the main computer, and so users will be able to see the video RAM it gives in the CPUs memory map. It can also act as a co-processor that acts independently, although this is not usually the case. The video switcher is generally available in three different formats. Video shifters are the most basic type of production shifter, and take care of the video timing signals. These obtain data one byte at a time from the CPU, and use synchronization signals to produce a video signal. The CTRC video switcher reads data directly from the computerÔ??s RAM, and this is then outputted either through a ROM or directly. Far more complex are video interface controllers. This kind of video switcher supports sprites and video RAM which is dedicated towards color attributes, thus making extremely high-resolution images possible.