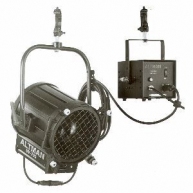 The Altman UV-703 is a compact, high output Fresnel blacklight. It is designed to provide high intensity illumination of flourescent materials at distances up to 150 feet. The fixture does not require any fans for cooling, resulting in extremely quiet operation. The fixture is equipped with barndoor rollers and an integral wire mesh safety screen in front of the lens. The ballast is simple to operate with a single on/off switch with a standard edison connector installed. A special Fresnel lens filters out harmful UV-B and UV-C wavelengths and almost all visible light.
Altman
Altman'?¶. A name that stands for quality, durability, pride, and excellence'?¶. a name synonymous with tradition, dedication, and design innovation'?¶ a family name. For over fifty years the Altman name has stood true as one of the leading innovators of theatrical, architectural, and film and video lighting available on the market today. Charles Altman, the patriarch and founder, whose spirit is still alive in the company today, founded the company based on the ideals of a top quality product available at an affordable price. Ronald Altman, whose memory still inspires loyalty and will always live on as the company grows. Robert Altman, a son who boldly leads the company into the 21st century with state of the art innovations and high quality product with his father Charlie's philosophy still in mind. Randall Altman, a grandson, who is stride by stride with Robert maintaining family pride in excellence. As the generations continue through the constant pursuit of excellence, these individuals as well as other family members and complete staff of employees (who are all treated as family members) strive to keep the family philosophy alive with customer satisfaction, personal service, and a quality product that has proved to last through the test of time.
Used Fresnels
Find used fresnel lights in well maintained condition from such popular brands as Arri, Strong, Lycian, Strand and James Thomas Engineering. All products come with warranties and are tested before shipping to you. Solaris sells and buys secondhand and used fresnel lights for film, TV, auditoriums, concerts and theaters. If you do not find what you are looking for give us a call and we will quickly find it for you.