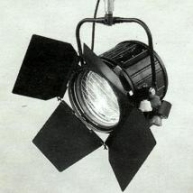 The Castor is a light-weight, compact Fresnel Spotlight suitable for studio or outside location. It is available with Bi-post or 4 pin lampholders, the latter for use with twin filament lamps where either or both filaments can be selected for choice of light output at constant colour temperature. Supplied with 4-leaf rotating barndoor, colour/diffuser frame, wire guard and 7 metres of power Cable.
Strand
Strand Lighting offers the world's most comprehensive and competitive range of luminaires, dimming equipment, control systems and software to answer the creative needs of lighting designers working in theatre, television, film, themed environments and sophisticated architectural applications. Strand Lighting History The Strand Electric Company began operating in 1914 to serve London's theater district. In 1926 Century Lighting opened for business in New York to serve Broadway. Today, Strand Lighting, the union of these two companies, continues as the world's leading name in stage, television, motion picture, and architectural lighting and services. Current Strand Lighting Operations Unique in the breadth of its operations, Strand Lighting now serves the world across three geographic regions. The European region, headquartered in the United Kingdom, has offices in Berlin, London, Moscow, Paris, and Rome and serves all of Europe, the Middle East, and Africa. The Americas region has its headquarters in Los Angeles and with offices in New York and Toronto serving the United States, Canada and Latin America. The Asia/Pacific region is supported from Strand Lighting's office in Hong Kong. Each region works closely with its local network of distributors to ensure the most extensive distribution of products and services in the entertainment lighting industry. Strand Lighting Products As the creative demands of entertainment lighting continue to expand, Strand Lighting has responded with a series of new product introductions demonstrating a commitment to providing lighting solutions matched to the scale and complexity of the application: the latest generation of software based control products ensure that as users' needs grow and new facilities are added, systems can be easily expanded to accommodate them, protecting the value of the original investment. Our new digital dimming systems bring enhanced flexibility and superior performance and value to all of our customers and our exciting range of Film, Television and Theatrical luminaires are the newest and most advanced in the industry. From the simplest to the most advanced, for theatrical, television, film or themed environments solutions will be found for all your applications within this catalogue.
Used Fresnels
Find used fresnel lights in well maintained condition from such popular brands as Arri, Strong, Lycian, Strand and James Thomas Engineering. All products come with warranties and are tested before shipping to you. Solaris sells and buys secondhand and used fresnel lights for film, TV, auditoriums, concerts and theaters. If you do not find what you are looking for give us a call and we will quickly find it for you.