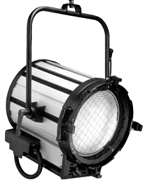 The Proline 5000S produces a powerful and extremely wide 61deg spread with a smooth, even field. Serves as a keylight or backlight for film, video, broadcast and Cable studio applications or for heavy location work. Featuresafrontdoorwith spring action top accessory ear, heavy-duty on-board switch, short lead for grid use or a 25' Cable for stand mounting. A 300mm short focus lens, safety screen,tubular steel yoke with11/8" pin or heavy duty pipe clamp,cord wrap and hinged filter frame. Accepts all standard 151/2" (39.37cm) accessories. Also available for this unit are 4-leaf or 8-leaf barndoors, a 3-in-1 snoot set, and a full compliment of scrims. This fixture is available in stand mounted, hanging and pole operated versions. Included in every Proline fixture is Altman??s new ??F/S EZ Glide Systemwhich allows the tray assembly to flood and spot with ease.
Altman
Altman'?¶. A name that stands for quality, durability, pride, and excellence'?¶. a name synonymous with tradition, dedication, and design innovation'?¶ a family name. For over fifty years the Altman name has stood true as one of the leading innovators of theatrical, architectural, and film and video lighting available on the market today. Charles Altman, the patriarch and founder, whose spirit is still alive in the company today, founded the company based on the ideals of a top quality product available at an affordable price. Ronald Altman, whose memory still inspires loyalty and will always live on as the company grows. Robert Altman, a son who boldly leads the company into the 21st century with state of the art innovations and high quality product with his father Charlie's philosophy still in mind. Randall Altman, a grandson, who is stride by stride with Robert maintaining family pride in excellence. As the generations continue through the constant pursuit of excellence, these individuals as well as other family members and complete staff of employees (who are all treated as family members) strive to keep the family philosophy alive with customer satisfaction, personal service, and a quality product that has proved to last through the test of time.
Used Fresnels
Find used fresnel lights in well maintained condition from such popular brands as Arri, Strong, Lycian, Strand and James Thomas Engineering. All products come with warranties and are tested before shipping to you. Solaris sells and buys secondhand and used fresnel lights for film, TV, auditoriums, concerts and theaters. If you do not find what you are looking for give us a call and we will quickly find it for you.