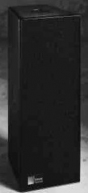 The UPM-1P is a remarkably compact, self-powered professional sound reinforcement loudspeaker that is ideally suited to applications requiring a small and inconspicuous unit that can provide high sound pressure levels, extremely low distortion and uniform directional control. As a stand-alone unit, the UPM-1P provides vocal reinforcement as well as front fill and delay coverage for under-balcony applications. Sound designers may also add an optional Subwoofer to create a full-range system.

The UPM-1P high-frequency section comprises a 1-inch metal dome tweeter on a symmetrical constant-directivity high-frequency horn with a 100-degree beamwidth. In the low/mid section, two 5-inch transducers work in parallel at lower frequencies to take advantage of their combined acoustic output, while one of the drivers Rolls off above 500 Hz to prevent destructive interference due to comb filtering effects in the mid-band frequencies.

The UPM-1P features two channels of built-in power amplification along with an active crossover, driver protection voltage limiters, and frequency and phase response alignment circuitry. The integral Power Supply suppresses high voltage transients, and a laser-trimmed differential input stage affords superior common-mode rejection.

The UPM-1P easily integrates with RMS remote monitoring system. RMS displays signal and power levels, limiter activity and amplifier temperature on a remote Windows-based computer.
Meyer Sound
Established by John and Helen Meyer in 1979, Meyer Sound has been at the forefront of innovation in audio engineering for over two decades. From the outset, Meyer Sound looked beyond loudspeaker cabinet design to create totally integrated, systems-comprehensive solutions that encompass transducer design, signal processing, power amplification and even electroacoustic measurement systems. As a result, Meyer Sound's engineering teams have earned an enviable reputation for developing unique, innovative solutions to some of the most difficult problems confronting audio professionals. In fact, it is fundamental to John Meyer's philosophy that no component of a system should be compromised in order to compensate for variables "upstream" or "downstream." Instead, the entire system should be conceived, designed, tested, confirmed and manufactured as a whole to provide the optimum blend of audio fidelity, utility and long-term reliability.
Used Cabinet Speakers
Find used speakers and used speaker cabinets from popular brands as JBL, Turbosound, EAW and more. All used speakers we carry are warrantied and in most cases inspected by factory certified technicians. Solaris sells and buys secondhand and used speaker cabinets for use in churches, clubs, theaters and other large events and shows. Call us if you don't find it and we will find it for you.