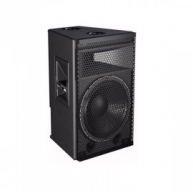 The UPA-2P loudspeaker provides high power output, low distortion, and consistent polar response in a compact, vented two-way enclosure. The loudspeaker features a 12-inch cone low-frequency driver and a 3-inch-diaphragm compression driver coupled with a 45-degree symmetrical high-frequency horn. The versatile UPA-2P has many sound reinforcement applications, as a main front-of-house loudspeaker in smaller venues (singly or in arrays), as a delay or fill loudspeaker in larger systems, and more.

The UPA-2P is distinguished by the extraordinarily smooth and predictable behavior of its proprietary horn. The result of intensive research in Meyer Sound's anechoic chamber, the patented UPA-2P horn design exhibits constant Q. The beamwidth remains consistent within close tolerances, in both the horizontal and vertical planes and across the horn's operating frequency range of 1 kHz to 18 kHz. The result is uniform attenuation of all frequencies outside the specified beam width, with minimal side lobing. Uniformly predictable polar behavior takes much of the guesswork out of system design, and ensures arrays that exhibit minimal destructive interference.
Meyer Sound
Established by John and Helen Meyer in 1979, Meyer Sound has been at the forefront of innovation in audio engineering for over two decades. From the outset, Meyer Sound looked beyond loudspeaker cabinet design to create totally integrated, systems-comprehensive solutions that encompass transducer design, signal processing, power amplification and even electroacoustic measurement systems. As a result, Meyer Sound's engineering teams have earned an enviable reputation for developing unique, innovative solutions to some of the most difficult problems confronting audio professionals. In fact, it is fundamental to John Meyer's philosophy that no component of a system should be compromised in order to compensate for variables "upstream" or "downstream." Instead, the entire system should be conceived, designed, tested, confirmed and manufactured as a whole to provide the optimum blend of audio fidelity, utility and long-term reliability.
Used Custom Speakers
Custom speakers are customized loud speakers which have been built for a special purpose. Sometimes, in concerts or theaters, sound technicians require customized speakers so that the quality and characteristics of the sound waves can be adjusted to suit their specific intentions. Other types, people simply have a preference for a certain custom speakerā??s designs, and these need to be specially made. Itā??s possible for any type of speaker system to be made into customized loud speakers. Custom speakers include full range drivers, mid range speakers, tweeters, woofers, subwoofers and even coaxial speakers. Sometimes custom speakers are needed to be able to withstand certain atmospheric or weather extremes, such as in the case of speakers which will be used in outdoor venues. These custom speakers can be specially designed to withstand various extremes of temperature and humidity levels, while they are also designed to stand up to inclement weather like rain, frost, dust storms etc. Customized loud speakers built for outdoor venues are known for their reliability, as they are made from tough, high-performance cone materials. These materials have been proved to stand up to the worst extremes of cold and heat, aridity and humidity, and so custom speakers such as these are highly prized in outdoor venues. Ordering custom speakers is simple. Just state what kind of temperature and weather extremes you need the custom speakers to withstand, and we can suggest the best materials for the job.