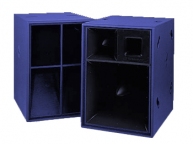 The TFS-780 has been designed as a complete system, with integrated loudspeakers, flying
hardware, amplifier racks, cabling and digital control system. It is designed for use in all
indoor and outdoor venues, from a small club audience up to the largest Arena or stadium.
The Flashlight system concept benefits from the availability of a variety of purpose-designed
loudspeaker box types, forming a flexible kit of parts that are used to build up loudspeaker
arrays to cover specific audience spaces with precisely controlled high-fidelity sound
coverage.

The Turbosound TFL (Floodlight) loudspeaker system can be used on its own as a side or
front fill, as well as being part of the Turbosound Flashlight System. The Turbosound TFL-
760HM high-mid downfill and the TFL-760LM low-mid downfill enclosures contain the same
components as the TFL-760H, and are used to further enhance a Flashlight array, providing
near-field coverage for the nearest audience rows.

The TFS-780HF long-throw high-mid contains the same components as the TFL-760HM, and
is used for high end far-field coverage of the furthest audience areas.


Turbosound
Turbosound is a leading designer and manufacturer of professional loudspeaker systems - proven by the vast number of endorsements of major international artistes and prestigious permanent installations around the world. Turbosound's unique, award winning designs have been developed around unorthodox principles, resulting in a special harmony between high technology in its purest form and a natural approach to the art of acoustical and electronic engineering. Many principle patents have been awarded to Turbosound over the years. In the large scale touring market, Turbosound has sold more than 20,000 loudspeaker systems, dominating this sector. Using disciplines learned from this most demanding of markets, Turbosound has also applied its design principles to the specialist requirements of the fixed installation, theatre, corporate and A/V markets. As a result of this, you will find Turbosound products not only touring with the best known international artistes, but also permanently installed in diverse venues such as cafes, pubs, bars and restaurants; nightclubs, theatres and houses of worship; and sports centres, arenas and stadia. Turbosound spends an industry-leading percentage of its sales on research and development, resulting in year after year of innovative product releases. State of the art measurement equipment, prototype building machinery and purpose designed sound rooms all support one of the best professional acoustical, analogue and digital engineering teams in the world. Based in the heart of the English countryside, Turbosound employs a highly skilled, motivated workforce using modern manufacturing techniques. All components - most of which are designed and manufactured exclusively for Turbosound - are individually tested prior to assembly. As well as having to pass a comprehensive computerised test, each completed product is listened to by a trained technician. Combine all of this with the close attention to detail in every aspect of the design - from robust precision-built enclosures that optimise natural acoustic performance, to the certified, easily assembled flying systems - and the result is that Turbosound enjoys an unrivalled worldwide reputation for reliability, innovation and quality. The Turbosound range of loudspeaker products, control electronics and amplified systems has in common one single purpose - to provide you with the best solution for your application. For more detailed information about a particular product, please browse our website, or contact your local distributor - we are represented in over 70 countries. However when choosing the right loudspeaker system, the single most important step you can take is to arrange a demonstration and let your own ears be the judge.
Used Cabinet Speakers
Find used speakers and used speaker cabinets from popular brands as JBL, Turbosound, EAW and more. All used speakers we carry are warrantied and in most cases inspected by factory certified technicians. Solaris sells and buys secondhand and used speaker cabinets for use in churches, clubs, theaters and other large events and shows. Call us if you don't find it and we will find it for you.
TFS-780 Package - Package of (72) TFS-780, (18) TFL-760 and (62) TSW721. Comes with a 14 day warranty.
TFS-780 - TFS-780 in great condition.
TFS-780 - Complete Turbosound system. Fully restored. Includes all flyware.