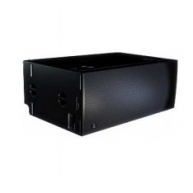 The Adamson T-21 Sub is a line-arrayable bass cabinet designed to provide superior sub-bass extension for Y-Axis true line source systems. The T-21 Subwoofer incorporates the newly-developed Adamson Symmetrical Drive multilayer 21" Kevlar driver. The SD-21 system employs a balanced spider suspension with spiders at both ends of the coil assembly, resulting in extreme stability under high excursions. This double spider design utilizes a 6" dual voice coil and powerful neodymium magnet to achieve superlative sensitivity. The T-21 Sub's tuned enclosure is internally braced to minimize harmonics and distortion, and features innovative port geometry that increases efficiency, lowers turbulence and has reduced compression at high SPL. The T-21 enclosure may be flown or stacked, and can be easily configured into an arc that will not shadow the main line array. The cabinet design includes an AIR rigging system with captured flying hardware that enables five precision rigging angles.

Features
Line-arrayable bass cabinet
Fully Integrated Rigging
Massive 21" Kevlar/Neodymium Drive
6" Dual Coil Symmetrical Drive
High Power/High SPL

Applications
Ideal Subwoofer Companion for the Y18
Live Concert Reproduction
Large Houses of Worship
Large Theatres
Large Clubs

Adamson Systems Engineering
Brock Adamson's passion for sound has driven the evolution of Adamson Systems Engineering from a small speaker shop to a company invested in its own factory, with a broad engineering base and a wide range of computer controlled manufacturing machinery. Now Adamson is recognized as the most advanced manufacturer of loudspeaker systems in the industry. A versatile range of products - from the highly acclaimed Y-Axis and SpekTrix true line source arrays to the SX and MH Series of conventional loudspeakers - has equated the Adamson brand name around the world with excellence and distinction.
Used Line Array Subs
Find used line array subwoofers and line array subs from such popular brands as Meyer Sound, d&b audiotechnik, L-Acoustics and Nexo. All used line array speakers are warrantied and in most cases inspected by factory certified technicians. Solaris sells and buys secondhand and used line arraysubs for large concerts, tours, stadiums and auditoriums. Call us if you don't find it and we will find it for you.