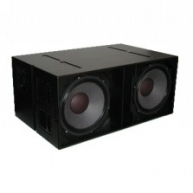 Compact self powered Subwoofer cabinet designed to extend the frequency range and power bandwidth for full range loudspeaker systems.
Audio Performance
Founded by S. Kevin Lewis, Performance Audio has been a primary supplier of professional sound systems and equipment both regionally and nationally since 1977. Based in Salt Lake City, Utah, Performance Audio has serviced the sound system needs of touring entertainers, business and trade shows, as well as the film and video production industry for over 30 years. In the late 1980's Performance Audio opened one of the region's first Pro Audio wholesale electronics supply stores. This allowed much more efficient distribution of equipment to a rapidly growing national customer base. This division of Performance Audio now provides over 60% of the company's revenue. In 1990 Performance Audio began providing designs and equipment for Theme Parks, Amusement Attractions, and Trade Shows. This exciting new area has allowed Performance Audio to expand its horizons even further into the entertainment and communication world. Successful designs and installations include many of the industry's most recognizable names in Las Vegas and Florida. Just prior to the 2000 Summer Olympics, Performance Audio was contracted by Technifex, a leading special effects creator and design firm, and Fox Studios, to design and install special effects audio systems for their Titanic attraction in Sydney, Australia. While its business was largely based on the concert stage for the first decade, Performance Audio became increasingly more involved with system design and installation for all types of performance and entertainment space, as well as broadcast and recording studio design and supply. As the digital age arrived, Performance Audio became a leader in digital workstation technology, and has working systems in place with film and video producers, CD replicators and tape duplicators, as well as numerous recording and broadcast studios.
Used Line Array Subs
Find used line array subwoofers and line array subs from such popular brands as Meyer Sound, d&b audiotechnik, L-Acoustics and Nexo. All used line array speakers are warrantied and in most cases inspected by factory certified technicians. Solaris sells and buys secondhand and used line arraysubs for large concerts, tours, stadiums and auditoriums. Call us if you don't find it and we will find it for you.