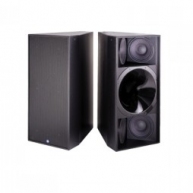 High-Power Quad 12-inch Three-Way Mid/High CoEntrant Complex Conic Loudspeaker System

Self-powered PowerNet ST9R and non-powered STX9 Series loudspeakers unite advanced technology and application-driven engineering to bring live sound closer to the ultimate reference point: reality. Patented CoEntrant Mid/Hi transducers, Class-D digital tri-amplification, and unique innovations like our Complex Conic Horns combine to deliver natural sounding music and intelligible speech. Wherever audiences and operators demand superior performance and ease of use, ST/STX Series loudspeakers are an excellent choice for transparent, reference quality performance.

Renkus-Heinz
Ever since, we'??ve researched the science and technology of sound. Several of our innovations have been awarded US patents. Each discovery opens new avenues for investigation, fresh opportunities for improvement. After 20 years of development, the real excitement is just over the horizon. That'??s why our founder Harro Heinz can still be found in our facility every day. That'??s why our team of dedicated professionals can'??t stop taking work home at night. That'??s why discriminating audio professionals worldwide rely on us to help them set new standards of reference in sound reinforcement. Integrated Systems The packaged loudspeaker system with transducers, waveguides, filter network, enclosure and hardware is today'??s standard. Back in '??79 the concept was unorthodox, but we'??ve always believed that better ideas will find their way into the hands of demanding professionals. Our first innovations (like US patent #4,336,425) came out of new thinking about compression drivers, but we realized that components yield only incremental improvements. The real performance breakthroughs come from using all the available tools '?? acoustic, mechanical, electrical and electronic '?? to bring reproduction closer to reality. Over a decade ago we introduced the first integrated systems, exploding boundaries that separated packaged loudspeakers from signal processing, power amplification, cabling and hardware. Today our engineers are equally at home with acoustics and electronics. Integrated systems design requires understanding a broad range of parameters, from matching amplifier output to transducer power handling, to precise setting of critical signal processing functions, to optimizing gain staging. Precision adjustment of limiter behavior, crossover frequencies and slopes, equalization and delay is a time-consuming, data-intensive process, but the results are worth it. Our integrated systems approach eliminates the frustration of verifying proper system setup and tracking down faults. The system designer and operator are free to focus on enhancing the listening experience, rather than trying to make the system work by adjusting critical parameters like driver protection, crossovers and EQ "on the fly." We build integrated systems as small as a single enclosure and as large as a high-output, wide coverage multi-element array. It'??s all part of our search for new reference points in sound system performance.
Used Cabinet Speakers
Find used speakers and used speaker cabinets from popular brands as JBL, Turbosound, EAW and more. All used speakers we carry are warrantied and in most cases inspected by factory certified technicians. Solaris sells and buys secondhand and used speaker cabinets for use in churches, clubs, theaters and other large events and shows. Call us if you don't find it and we will find it for you.