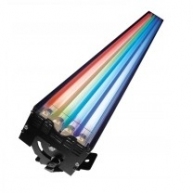 The SpectraConnecT5 system utilizes four T5/35W fluorescent tubes in red, green, blue and white for additive colour mixing. Compact size, low weight and the newest multicore-connectors make the system ideal for touring.

Integrated soc-technology guarantees linear lightness-control and absolutely flicker free fades even for slow overblends. Every single T5 tube can be driven with a flash-frequency of 9-25 Hz and the reaction time of only 20 milliseconds guarantees best possible performance for professional theatre, event and architecture applications.

subtle colour changes for basic and horizontal lighting in theatres and television studios are typical applications for the SpectraConnecT5 system.

For ideal integration in any stage or architectural setting, the appliances can be delivered in every desired colour.
LDDE
Light is life LDDE stands for innovative solutions on the highest technical and creative level. The synergy of practice-oriented development work and in-house production in combination with a wide range of high-end products of leading manufacturers allows us to respond to your wishes and realize your ideas in an individual and flexible manner. The secret of success was and is the passion for light and technology. In only fifteen years, the one man company evolved into one of Austria´s most progressive light companies, with more than forty employees. Roots We are an Austrian company based in Vienna. Handshake agreements are honoured as business deals. Lighting ideas LDDE products are all developed in close cooperation with customers. Light designers, stage designers and architects like to contact LDDE about unusual projects because they know that their ideas will be in good hands. Solutions at the highest technical and creative standards are developed in ingenious cooperation by all LDDE departments. Synergy The combination of development on a practical basis, house intern production and a comprehensive range of products made by leading manufacturers make it possible for LDDE to react individually and flexibly to customers´ requests. Connections Good, national and international business connections to people and companies have been established and cultivated for years. Competence Conceive, realise and also successfully sell solutions. Develop a company and a team, inspire, expand internationally, master crises, compile and adhere to budgets, initiate and control projects; develop and realise visions, strategies and international business connections. Guideline Our dreams come true beyond the horizon. Future Visions and provident strategies, progress and giving crucial impulses to technical developments as well as to business developments.
Used LED Lighting
LED lighting is a specialized kind of stage lighting which is highly valued by technicians due to its high light output and low power consumption. Used as an alternative to traditional stage lighting such as halogen lamps, LED stage lighting is a more than capable alternative for just about any kind of application, although it is primarily used for lighting cycloramas, and for side, back and top lighting. In addition to these uses, LED lighting can be used to â??blind the audienceâ?, a nice special effect which involves briefly exposing the audience to a direct light beam from the LED stage lighting at crucial moments of the concert or show. LED wash lights are also great for applying a technique known as â??wall washingâ?, thanks to the high intensity of their light beam. LED wash lights can provide the full spectrum of light colors, despite usually only being fitted with green, blue and red LEDs. The operator simply needs to adjust the intensity of the various colored beams of light, manipulating them to achieve the desired color spectrum. LED lighting is provided by three pieces of equipment. The most common are LED Pars, which imitate traditional stage lights and have a number of LEDs mounted onto them. Striplights, which are basically a long length of LED wash lights, are also very common, while the versatility of moving LED lights is also becoming an increasingly preferred option for many stage lighting technicians. Besides its higher light output and lower power consumption, LED lighting has a number of other advantages. One is that they have an exceptionally high heat tolerance, which means they can be used almost anywhere without worrying about them becoming damaged due to overheating. Another advantage of LED lighting is that it has a much longer shelf life than traditional lighting.