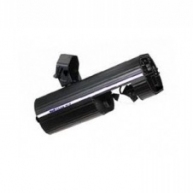 The Martin RoboScan Pro 518 is a superior 250W scanner with loads of big time effects. Rotating Gobos, a fixed 3-facet prism and now the RoboScan 518 features 16-degree wide-angle optics.

250W discharge lamp
14 color filters
Two 4-color filters
CTC and UV filter
5 rotating and interchangeable Gobos
Fixed 3-facet prism
Frost filter
Combined mechanical Dimmer/shutter
Full range, microstep-driven dimming
DMX or stand-alone mode
Martin Professional
Martin is the maker and distributor of entertainment control and intelligent lighting and effects. Martin uses the latest technologies to create these amazing machines for the entertainment industry. Martin is also a maker of high end sound systems known as
Used Moving Mirror Scanners
Moving Mirror Scanners are often used for club lighting, as well as for stage lighting, and are quite similar in concept to moving lights in that they offer increased versatility and can be used to create more complex special effects than conventional stage lights. Scanners have actually been around for years '?? indeed, they were the first ever kind of moving lights, preceding the more popular intelligent lights that are now used today. The main different between moving mirror light scanners is that, unlike more modern moving lights that have mechanical light fixtures, scanners rely on '??mirrors that move'?Ě to direct the light beam, rather than moving light components. The fixture of the scanning head light doesn'??t actually move by itself. Rather, it contains a built in mirror fixed to a pivot point that moves around and directs the beam of light which is focused onto it. Much like a moving lights, scanners or club lighting can be pre-programmed before a production so that the operator doesn'??t have to control the light through the duration of the show, though of course some skilled operators prefer to operate the lights manually, during the performance, if they have the experience to do so. Scanners are available in a wide range of different sizes, and offer many different types of features to lighting technicians. Features include high-resolution stepping, high-resolution glass gobos with indexing and rotation, color mixing, mechanical dimming, remote focus, electronic strobing and many more.
RoboScan 518 - These Roboscan Power Up and Function Properly. Replacement Mirror with Bracket is Included.
RoboScan 518 Package - Pacakage of (2) Pro518, (2) MSD250 and case. Used on various rentals.
RoboScan 518 - From installation. In good condition. Will be cleaned and tested before shipping.