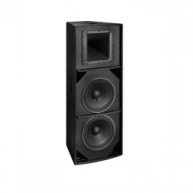 Two basic Phoenix systems are available: one based around the PX2122 dual 12 two-way with 30 x 45 dispersion, the other around the PX2152 dual 15 two-way with 60 x 45 dispersion. Each is used in combination with the PX2181, a tour-quality, dual 18 Subwoofer designed for solid, thumping low frequency reproduction. Wood channel routings on the top and sides allow the sub to be precisely arrayed and secured with PX2122 or PX 2152 boxes during stacking. For high SPL monitor, fill or delay applications, the PX1122M (single 12-inch) and PX1152M (single 15-inch) are true multi-purpose solutions. Operating in bi-amp or passive mode, both boxes come with a built-in pole mount and Truss mount attachment points. For stacking and aesthetic consistency, PX2122 and PX2152 share the same exterior dimensions. For looks and durability, all PX boxes are covered in EVCOAT. A full range of hardware accessories (wheelbars & flyware) is available.


Electro-Voice
Electro-Voice Prominent maker of microphones; also loudspeaker systems, amplifiers.
Used Cabinet Speakers
Find used speakers and used speaker cabinets from popular brands as JBL, Turbosound, EAW and more. All used speakers we carry are warrantied and in most cases inspected by factory certified technicians. Solaris sells and buys secondhand and used speaker cabinets for use in churches, clubs, theaters and other large events and shows. Call us if you don't find it and we will find it for you.