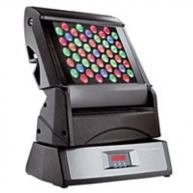 _ COMPANY
_ PRODUCTS
_ CREDITS
_ SERVICE
_ SALES NETWORK
_ COMMUNICATIONS
_ SITE MAP
A fixture with an exclusive design, an exceptional tool thanks to its functional qualities as well as to its stylish contribution, that can be offered to any type show, performance or installation.
SGMs Palco 3 isnt just a new idea in colour-changing fixtures with its light source 49 high-power LEDs, its also a unit decidedly attractive to look at and able to fitted harmoniously into any setting, from musical shows to artisticarchitectural lighting.
As well as ensuring considerable energy saving, absolute silence and protection to IP65, with Palco 3, users can count on very high luminous power, that sets records even in the LED Lighting sector.
For optimum installation flexibility, the units head can be removed from the rest of the body.
SGM
For over 25 years, SGM has been a key international player in the development of 'intelligent' entertainment lighting systems. Its success is based on its strong business vocation, its great interest in innovation and its staff's enthusiasm. But above all, its choices. Setting up a Research & Development Centre equipped with the very latest mechanical, electronic and optical processing software, where its technology is designed in-house. Managing the entire manufacturing process directly, using machinery and control systems of the latest generation. Being 'in the field' worldwide alongside lighting designers, rental firms and installers with its technicians and its sales network, listening to their needs and offering responses made up of concrete solutions and avant-garde products: products with a 'personality' and unique characteristics. This is why moving head fixtures, scanners, follow spots, colour-changers, lighting control consoles, dimmers, strobe lights and smoke machines with the SGM logo are equally at home on top show events, at concerts or in theatres and television studios. SGM faces 21st century technical and commercial competition as a protagonist, convinced of its present and certain of its future. Because SGM's future consists in cutting edge proprietary technology, an innovative approach to product features and great passion for a fascinating job.
Used LED Lighting
LED lighting is a specialized kind of stage lighting which is highly valued by technicians due to its high light output and low power consumption. Used as an alternative to traditional stage lighting such as halogen lamps, LED stage lighting is a more than capable alternative for just about any kind of application, although it is primarily used for lighting cycloramas, and for side, back and top lighting. In addition to these uses, LED lighting can be used to '??blind the audience'?Ě, a nice special effect which involves briefly exposing the audience to a direct light beam from the LED stage lighting at crucial moments of the concert or show. LED wash lights are also great for applying a technique known as '??wall washing'?Ě, thanks to the high intensity of their light beam. LED wash lights can provide the full spectrum of light colors, despite usually only being fitted with green, blue and red LEDs. The operator simply needs to adjust the intensity of the various colored beams of light, manipulating them to achieve the desired color spectrum. LED lighting is provided by three pieces of equipment. The most common are LED Pars, which imitate traditional stage lights and have a number of LEDs mounted onto them. Striplights, which are basically a long length of LED wash lights, are also very common, while the versatility of moving LED lights is also becoming an increasingly preferred option for many stage lighting technicians. Besides its higher light output and lower power consumption, LED lighting has a number of other advantages. One is that they have an exceptionally high heat tolerance, which means they can be used almost anywhere without worrying about them becoming damaged due to overheating. Another advantage of LED lighting is that it has a much longer shelf life than traditional lighting.