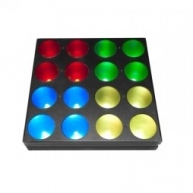 Nexus 4x4 is both a bold eye-candy and a tour-ready wash light capable of delivering at once the sizzle of a pixel mapping display and a robust light output afforded by 16 27-watt RGB COB LEDs . The combination of COB emitters and a clever reflector design yields a striking, diffused light richly drenched in saturated hues. Nexus 4x4 is controllable via Art-Net, Kling-Net and DMX protocols and features interlocking hardware to build large arrays. Whether in use for front viewing or as a backdrop, Nexus 4x4 promises a hard-to-match visual impact.
Chauvet
CHAUVET began in the 80s as an OEM distributor and manufacturer from a modest warehouse in North Miami Beach, FL. Today CHAUVET is a major innovator, developer and manufacturer, leading the lighting entertainment market in terms of design, flexibility and options. Our formula is simple: the right products at the right price. Sold through a network of highly professional dealers and distributors, the CHAUVET brand has a global reach built around three core tenets: Value, Innovation, Performance- VIP for short. Professional moving yokes, scanners, wash lights and controllers drive the bulk of CHAUVETs growth. The company also actively pursues new technologies and markets in LED, laser and architectural illumination. Most products are manufactured in Asia. Product design, marketing, technical support, sales, sourcing, quality control, warehousing and shipping are handled in the USA. A passion for lighting and the drive to excel unite an otherwise diverse staff of 50 at the South Florida headquarters. All share the realization that, beyond top-of-the line products, straightforward advice, after-sale service, and support are key to a truly satisfied customer.
Used LED Lighting
LED lighting is a specialized kind of stage lighting which is highly valued by technicians due to its high light output and low power consumption. Used as an alternative to traditional stage lighting such as halogen lamps, LED stage lighting is a more than capable alternative for just about any kind of application, although it is primarily used for lighting cycloramas, and for side, back and top lighting. In addition to these uses, LED lighting can be used to '??blind the audience'?Ě, a nice special effect which involves briefly exposing the audience to a direct light beam from the LED stage lighting at crucial moments of the concert or show. LED wash lights are also great for applying a technique known as '??wall washing'?Ě, thanks to the high intensity of their light beam. LED wash lights can provide the full spectrum of light colors, despite usually only being fitted with green, blue and red LEDs. The operator simply needs to adjust the intensity of the various colored beams of light, manipulating them to achieve the desired color spectrum. LED lighting is provided by three pieces of equipment. The most common are LED Pars, which imitate traditional stage lights and have a number of LEDs mounted onto them. Striplights, which are basically a long length of LED wash lights, are also very common, while the versatility of moving LED lights is also becoming an increasingly preferred option for many stage lighting technicians. Besides its higher light output and lower power consumption, LED lighting has a number of other advantages. One is that they have an exceptionally high heat tolerance, which means they can be used almost anywhere without worrying about them becoming damaged due to overheating. Another advantage of LED lighting is that it has a much longer shelf life than traditional lighting.
Nexus 4 by 4 - Package of (12) Nexus 4 by 4 in excellent condition. Priced per package.