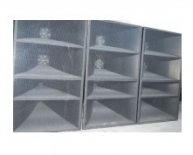 ? Mid/High VA4 loudspeaker system
? Optimized for permanent installation only
? Dual horn-loaded 10-in cones with VA4 phase plug
? Dual 2-in exit/100mm voice coil Compression Driver
on constant directivity horn
The new MQ Series represents the next generation of permanent
installation loudspeaker systems. Using VA4 Technology
developed for the new KF700 Series, the MQ range replaces
the MH and BV ranges of Virtual Array systems. The
Series comprises matched sets of mid/high and low frequency
enclosures that enjoy complementary dimensions and
trapeziod angles to facilitate the creation of optimizedcoverage
arrays.
The MQ3464D uses dual horn-loaded 10-in midrange cones
with a specially designed geometry that produces a timecoherent
wavefront through the upper portion of the midrange
that is critical to vocal articulation. A phase plug with Radial
slots then serves to reduce the mechanical reactance of the
subsystem without affecting the directivity of the source,
allowing for flawless arraying of multiple MQ mid/high
modules.
Eastern Acoustic Works
Eastern Acoustic Works (EAW) is the global leader in high-performance, professional loudspeaker system design and manufacture. Based in an historic mill complex in Whitinsville, Massachusetts, USA, EAW gives audio professionals a comprehensive tool kit that helps them deliver customized sound reinforcement solutions for venues and events around the world.
Used Cabinet Speakers
Find used speakers and used speaker cabinets from popular brands as JBL, Turbosound, EAW and more. All used speakers we carry are warrantied and in most cases inspected by factory certified technicians. Solaris sells and buys secondhand and used speaker cabinets for use in churches, clubs, theaters and other large events and shows. Call us if you don't find it and we will find it for you.