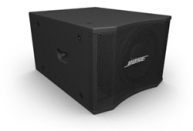 The Bose MB12 modular bass Sub loudspeaker is a compact, low-frequency loudspeaker. The MB12 is designed exclusively for use with the Panaray LT mid/high-frequency and full-range Bose loudspeaker family.
Bose
Bose Corporation was founded in 1964 by Dr. Amar G. Bose, then professor of electrical engineering at the Massachusetts Institute of Technology. While doing graduate work at MIT in the 1950s, Dr. Bose decided to purchase a new stereo system. He was disappointed to find that speakers with impressive technical specifications failed to reproduce the realism of a live performance.
Used Custom Speakers
Custom speakers are customized loud speakers which have been built for a special purpose. Sometimes, in concerts or theaters, sound technicians require customized speakers so that the quality and characteristics of the sound waves can be adjusted to suit their specific intentions. Other types, people simply have a preference for a certain custom speakerā??s designs, and these need to be specially made. Itā??s possible for any type of speaker system to be made into customized loud speakers. Custom speakers include full range drivers, mid range speakers, tweeters, woofers, subwoofers and even coaxial speakers. Sometimes custom speakers are needed to be able to withstand certain atmospheric or weather extremes, such as in the case of speakers which will be used in outdoor venues. These custom speakers can be specially designed to withstand various extremes of temperature and humidity levels, while they are also designed to stand up to inclement weather like rain, frost, dust storms etc. Customized loud speakers built for outdoor venues are known for their reliability, as they are made from tough, high-performance cone materials. These materials have been proved to stand up to the worst extremes of cold and heat, aridity and humidity, and so custom speakers such as these are highly prized in outdoor venues. Ordering custom speakers is simple. Just state what kind of temperature and weather extremes you need the custom speakers to withstand, and we can suggest the best materials for the job.
MB-12 - From installation. Call for more information on this listing. Installed in a sports bar in 2006 and ...