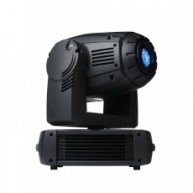 The MAC 700 Profile is a compact, powerful fixture with an output and optical precision beyond its peers. It combines a full CMY color mixing system with an 8 position color wheel and a gobo Animation system for dramatic projection effects. It also features an iris, fixed Gobos, rotating Gobos and zoom system.
Martin Professional
Martin is the maker and distributor of entertainment control and intelligent lighting and effects. Martin uses the latest technologies to create these amazing machines for the entertainment industry. Martin is also a maker of high end sound systems known as
Used Cabinet Speakers
Find used speakers and used speaker cabinets from popular brands as JBL, Turbosound, EAW and more. All used speakers we carry are warrantied and in most cases inspected by factory certified technicians. Solaris sells and buys secondhand and used speaker cabinets for use in churches, clubs, theaters and other large events and shows. Call us if you don't find it and we will find it for you.
MAC 700 Profile - These MAC 700 Profile have been Regularly Maintained. From 2008 and Come with a Dual Case.
MAC 700 Profile - Package of (2) MAC 700 Profile in good condition. Previously used on various rentals.
MAC 700 Profile - MUST MOVE! - Never Rented, Original Bulbs
MAC 700 Profile - Package of (2) MAC 700 Profile with dual flight case in good condition. Previously used on tours.
MAC 700 Profile - Corporate used MAC 700 Profile in good condition. Minimum purchase of (2) units. Priced per unit.
Mac 700 Profile - Excellent Condition
MAC 700 Profile - Include C-Clamps, hanging brackets and L6-20 plug.
MAC 700 Profile - MAC 700 Profile in good condition, previously used on rentals. Minimum purchase of (2) units include...
MAC 700 Profile - These MAC 700's were used mainly on corporate shows and have been very well cared for. Include clamp...
MAC 700 Profile - Mac 700 Profile in case
MAC 700 Profile - MAC 700 Profile in great condition. Minimum purchase of (2) units. Priced per unit.
MAC 700 Profile - MAC 700 Profile in great condition. Minimum purchase of (2) units. Priced per unit.
MAC 700 Profile - MAC 700 Profile in great condition. Minimum purchase of (2) units. Priced per unit.
MAC 700 Profile Package - Package of (2) MAC 700 Profile with dual flight case in good condition, previously used on rentals. ...
MAC 700 Profile Package - These Mac 700 Profiles are in Very Good Condition in Doubled Flight Cases. Purchases in the Summer o...
MAC 700 Profile - MAC 700 Profile in good condition. Minimum purchase of (2) units includes dual case. Priced per unit...
MAC 700 Profile - Corporate use only. Includes clamps, safety wires, and dual flight case.
MAC 700 Profile - Like-new condition-Includes Dual Road Case
Mixed Package - Mixed demo package. Please call for more information on this package. 127 day warranty.
MAC 700 Profile - Package of (12) MAC 700 profiles. Used as a dry hire. Well maintained. Manufactured in 2007.
MAC 700 Profile Package - Package of (10) MAC 700 Profile with dual cases. (7 Packages available at this price)
MAC 700 Profile - These MAC 700 Profiles Come With a 60 Day Warranty.
MAC 700 Profile - Corporate used MAC 700 profile in good condition. Minimum purchase of (2) units includes case. Price...
MAC 700 Profile - MAC 700 Profile in great condition; previously used on rentals.
MAC 700 Profile - Dual case included with the purchase of two units.
MAC 700 Profile - MAC 700 Profile in good condition. Minimum purchase of (2) units. Priced per unit.
M7 (Vendor: Single Update) - xxx
MAC 700 Profile - MAC 700 Profile in good condition. Minimum purchase of (2) units. Priced per unit.
MAC 700 Profile - From installation. Cleaned and tested.
MAC 700 Profile - Mac 700 Profile in great condition.
MAC 700 Profile - Priced per unit. Sold in pairs. Used for corporate events.
MAC 700 Profile - MAC 700 Profile in good condition. Minimum purchase of (2) units. Priced per unit.
MAC 700 Profile - MAC 700 Profile in good condition, previously used in tours. Minimum purchase of (2) units, priced p...
MAC 700 Profile - Mac 700 Profile in case
M7 (Vendor: Multipe) - xxx
MAC 700 Profile - Used on various rentals. Normal wear. Dual case available with the purchase of two units.
MAC 700 Profile - Mac 700 Profile in case
MAC 700 Profile - 60 day warranty.These units come from a company that take immaculate care of their equipment.
MAC 700 Profile - MAC 700 Profile in great condition. Previously used in rentals. Minimum purchase of (2) units. Price...
MAC 700 Profile - Comes with an original dual case with the purchase if two units.
MAC 700 Profile - Corporate used MAC 700 Profile in great condition. Minimum purchase of (2) units.
MAC 700 Profile - Package of (2) MAC 700 Profile in great condition. Previously used on tours. Priced per package.
Mac 700 Profile - Excellent Condition
MAC 700 Profile - Corporate used MAC 700 Profile in good condition, used in several events. Minimum purchase of (2) un...
MAC 700 Profile - Sold in pairs only. Priced per unit. Used on various rentals. All have been cleaned and tested.
MAC 700 Profile - Excellent condition from 2007 - 2008